Tomi Lahren Appearing on Trump's Live Stream Last Night Has to Be Proof #TrumpTV Is a Go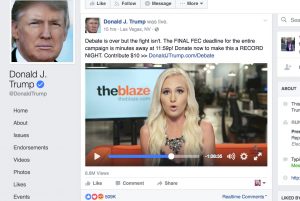 We need to talk about Trump TV. We also need to talk about Tomi Lahren. They're going to be synonymous soon, we think, and we'd like to get you up to speed before that happens. She appeared on a livestream he hosted last night on Facebook, so it's only a matter of time.
For months, there has been speculation that Donald Trump will move to funnel his popularity among a certain demographic into a media company if he loses in November. The move makes sense and echoes one that similarly polarizing and eccentric political character Sarah Palin made two years ago, though her subscription site shuttered pretty quickly.
Early on in the speculation, people wondered if the entire campaign was a sham and if Trump was running to lose, which would give him the chance to solidify his self-styled reputation as an "outsider" who has too many incredible ideas for the establishment to handle. Running to lose would craft a ready-made base of fans out of everyday voters and ensure that there was always someone there to watch whatever content Trump and his team pushed out. On the other hand, others simply wondered if creating a channel or subscription site was just the back-up plan. Others, still, weren't so sure that a media empire was even on the real estate mogul's radar.
Then, three days ago, a new report emerged and alleged that Trump's son-in-law, the Observer's Jared Kushner, approached a boutique investment bank with a history of media deals. This refueled the speculation, to say the least. Here at Mediaite, we had fun imagining what the daily show schedule might look like.
We were kidding around, yes, but we overlooked one very important addition to the schedule: Tomi Lahren.
You know who she is. She's the blond woman who rails against Beyoncé for not giving little white girls enough consideration when she plans her Super Bowl halftime shows and Colin Kaepernick for not being grateful he had white parents. Right now, she works for Glenn Beck at The Blaze, but very soon, we think she'll be jumping to Trump TV.
Consider this: She addressed the rumors that she's considering a Trump TV jump in a recent profile, saying she wouldn't be interested in going somewhere that didn't give her full control of her image and content. She still has a year left on her contract at The Blaze, anyway.
Last night, however, when Trump was livestreaming on Facebook, she joined in and delivered her "Final Thoughts" segment. Most pundits overlooked the significance of this, instead choosing to focus their energies on determining if the livestream is a confirmation of a Trump channel to come.
I'm LIVE in 5 on https://t.co/zsPFBi6aOJ #debatenight

— Tomi Lahren (@TomiLahren) October 20, 2016
She kept a sign behind her that said The Blaze, but the intention was clear: She was testing the waters to see if Trump could offer that unfiltered, unregulated work environment she mentioned in last week's profile of her.
Beck had to be distraught to have his logo behind her as she backed up a candidate that he despises, but he had to have seen this coming. In that profile, which appeared on the Ringer, there was this:
Lahren is on contract with TheBlaze for one more year. After that, "I want to do more with digital. I want to have an outlet where no one tells me no," she says. "I get more Facebook views each night than all of the Fox personalities combined, and my salary is crumbs compared to what they bank."
Clearly, she has a few issues with her employer and her current situation. The fact that her boss doesn't support the "law and order" candidate she so fervently admires has to be high on the list, too.
For those who say she's gunning for a position at Fox News — and there are a lot of you out there who think that, judging by the comments and emails that pour in whenever Lahren is covered on the site — think again. That Ringer profile explained pretty clearly that because conservative punditry has "evolved" in the digital age and because she wants to do something with less input from higher-ups, a career at a traditional cable network — an establishment network — is just not happening.
Look, when she first started out as a host, she had a show on One America News Network. That show, On Point with Tomi Lahren, featured the "Final Thoughts" segment she's now known for. She took "Final Thoughts" and left OANN for The Blaze and she'll do it again.
She'll do it with Trump TV.
[image via screengrab]
This is an opinion piece. The views expressed in this article are those of just the author.