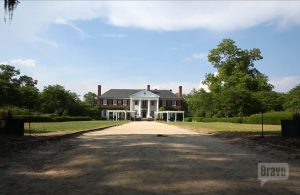 The first episode of Top Chef: Charleston filmed part of its episode, the Sudden Death Quickfire Challenge at Boone Hall Plantation, a former cotton plantation which is now open to visitors for educational purposes, events, and to serve as a reminder of what happened there.
Lots of viewers weren't happy with the location choice, and they took to Twitter to express their anger and concerns:
Nobody would ever suggest filming Top Chef at Auschwitz. A plantation was viewed as appropriate and you've gotta think about why that is.

— The Kitchenista (@MissAngelaDavis) December 5, 2016
I still cannot comprehend why they're on this plantation… I'm so glad I have some liquor in this house.. #topchef pic.twitter.com/qe8R28Rd9S

— Lanette (@Amadii) December 2, 2016
What's up at #Bravo #TopChef? 1st the new season is in anti-LGBT
S. Carolina. 2nd they take 2 black chefs to an old plantation. #insensitive

— Metl Mann (@Metl_Mann) December 4, 2016
So ends my viewership of #TopChef with the black man on plantation being eliminated to white man making truffle slave dish.

— Glittery Bootz (@GlitteryBootz) December 2, 2016
#TopChef's first elimination challenge includes a black man and it's at a plantation. pic.twitter.com/Ex6SnCGz7t

— H. Jose Bosch ?? (@HJBosch21) December 2, 2016
Never thought I'd say this but #topchef was a problem tonight. A plantation? Really?

— Hillary Wasserman (@hillwass) December 2, 2016
They sent the black man Gerald home after making him cook on a plantation smh #topchef

— JustCakz (@_MsHoliday) December 2, 2016
Who thought the idea of a white guy vs a black guy on a plantation was a good idea? #TopChef

— Michael Gugerty (@TheGoog78) December 2, 2016
Tom Colicchio responded to the criticism, noting that slavery is part of Charleston's history, and saying they wanted to paint a complete picture of the city. He also noted that, of course, it wasn't their intention to be offensive.
Sorry we offended you. Places like Auschwitz and Boone plantation are open so we don't forget how heartless people can be. https://t.co/C96jE0CS1l

— Tom Colicchio (@tomcolicchio) December 5, 2016
we chose the location because we wanted to show the complete history of Charlesron. https://t.co/NSyE0D5s5o

— Tom Colicchio (@tomcolicchio) December 5, 2016
We are shooting in the South I would think it odd if we ignored Charlestons History. https://t.co/ejiFYRcSj9

— Tom Colicchio (@tomcolicchio) December 5, 2016
Colicchio has responded to a ton of tweets over the course of the last few days. It still remains to be seen how or if they will address the issue the rest of the season.
[images via screen grab/Bravo]
Have a tip we should know? tips@mediaite.com