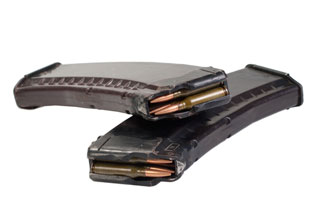 One day, the happy little town of Sunnyvale, Calif., had a brilliant idea: Ban all the guns to stop all the violence! (Or, at least, ban all the "magazines that hold more than 10 rounds of ammunition.") And so they did, via a referendum. Unfortunately, the old trope of people "clinging" to their guns proved true: According to the town's police, no one has turned in any high-capacity ammo magazines yet.
Sunnyvale residents were given the option to either sell their magazines or turn them over to the city's Department of Public Safety, but so far, they've received nothing. Instead, a bunch of residents are hoarding their magazines in stockpiles outside the city's borders — a totally legal move, according to the new law, but still. "I imagine they'll move them out of town as soon as they can," said Leonard Fyock, a plaintiff for the National Rifle Association's challenge to the law, and says he needs his ammo magazines for self-defense.
Did you not think this law was going to be challenged? Did you not think that the people with the ammo were going to be afraid of retribution for speaking out against the law? Ofcourse this would happen. From San Jose Mercury News:
Chuck Michel, the NRA's West Coast counsel representing Fyock and several other plaintiffs in their lawsuit against the city, said most people won't speak out for fear that police will track them down.

A federal judge in San Jose refused Wednesday to grant a preliminary injunction blocking the law from taking effect, finding the plantiffs' case isn't likely to succeed at trial, the ban wouldn't cause them irreparable harm and Sunnyvale has a public interest in enforcing the ban.

The 9th Circuit Court of Appeals also refused to stay the law Thursday, so Michel made a last-ditch plea Friday to the U.S. Supreme Court.
And lest you think this is a town in the middle of nowhere, Sunnyvale is one of the major hubs of Silicon Valley, which makes us wonder if there are actually that many high-capacity ammo magazines in the area.
— —
>> Follow Tina Nguyen (@Tina_Nguyen) on Twitter
Have a tip we should know? tips@mediaite.com