Jay Carney Changes Tune: Obamacare 'Not a Decisive Factor' in FL Special Election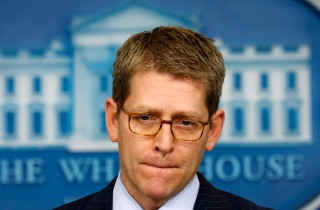 White House Press Sec. Jay Carney was grilled on Wednesday by ABC News White House Correspondent Jonathan Karl about the results of a special House election in Florida in which Republican David Jolly emerged victorious over former Democratic gubernatorial candidate Alex Sink. Asked if the outcome of that race amounted to a referendum on the Affordable Care Act, Carney insisted that the ACA was not a "decisive factor" in why the Republican candidate won.

Carney said that the fact that the ACA was not a significant factor leading to Sink's loss was evidenced by Jolly not bringing up the health care reform law in his Tuesday night victory speech.
"Do you agree that the Affordable Care Act was not a factor in the Democratic loss in this race — not a major factor?" Karl asked.
Carney said that he would resist the temptation to perform election analysis. "But I will note that any fair assessment of the role that the debate about the Affordable Care Act played reaches the conclusion that at best for the Republicans, it was a draw," Carney replied.
RELATED: Florida Democrat Alex Sink Ran Against Repealing Obamacare and Lost
On the Affordable Care Act, that the effect of the Affordable Care Act, the debate that was, as [NPR White House reporter] Mara [Liasson] points out, a part of this election campaign for this special election in Florida, that the views on it, at best, from a Republican point of view, created a draw. That it was not a negative or a positive. It was not the decisive factor for an outcome to a race which, by the way, resulted in a less than 2 percent victory in a special election.
"This is a good sign for you then?" Karl replied to the laughter of the White House press corps.
"No," Carney replied. "It's a single race."
Florida-based political observers have observed for several weeks that the ACA played a commanding role in that special election, and was the focus of most ads aired by both the Republican and Democratic candidates. On Monday, Carney expressed support for what he called the "far better argument to the American people" that Sink was making – that the reform, not the repeal, of the Affordable Care Act was a superior policy position.
Watch the clip below via The White House:
[h/t WFB]
[Photo via AP]
— —
> >Follow Noah Rothman (@NoahCRothman) on Twitter
Have a tip we should know? tips@mediaite.com