Toxic Caller, G: The Daily Caller Mocks Late Ohio Restaurateur Within Hours Of Death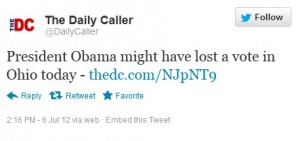 On Friday, we reported on the tragic death of 70 year-old restaurant owner Josephine "Ann" Harris, who passed away just hours after serving breakfast to President Obama, who stopped at Ann's Place on his two-state bus tour. Leave it to the cockeyed optimists at The Daily Caller to find a silver lining to this story, as the conservative news site tweeted a link to an account of Harris' death, along with the message "President Obama might have lost a vote in Ohio today."
The tweet was sent at 2:16pm, mere hours after Ms. Harris was pronounced dead.
The DC's tweet fueled outrage among the "left-wing media," according to Daily Caller superfan and gossip columnist Betsy Rothstein, who chronicled some of the reaction from those sensitive lefties:
HuffPost political reporter Sabrina Siddiqui: "Show some class."

TPM's Brian Beutler: "And perhaps some side boob."

Mother Jones' soon-to-be full-time Washington-based Social Media guru and National Security Correspondent Adam Weinstein remarked, "You don't have to be a loyal opposition. You don't even have to be respectful. But can you at least be humane? @DailyCaller"

And the DNC's mouthy Social Media coordinator Greg Greene weighed in, saying, "They could do worse. They could send Neil Munro to cover the funeral."
But reaction to The DC's deranged tweet wasn't limited to the so-called "left-wing media."
From Time Magazine White House correspondent Michael Scherer: "Stay classy, Tucker. RT @DailyCaller: President Obama might have lost a vote in Ohio today"
Buzzfeed's Rosie Gray was appropriately astonished: "this is seriously your headline for that? "@DailyCaller: President Obama might have lost a vote in Ohio today"
Washington Post editor James Downie tweeted: "Living up to Tucker Carlson's lack of class – RT @DailyCaller: President Obama might have lost a vote in Ohio today"
Amid all of the "left-wing" and mainstream revulsion at Tucker Carlson's baby was a smattering of conservatives cracking wise, with the lone exception of GOP strategist Matt Mackowiak, who tweeted "In very poor taste."
Fans of The Daily Caller can try to pretend that it's only overly-sensitive libs who are noticing the site's well-documented pattern of naked appeals to a deranged, racially-resentful segment of its readership, but that's simply not the case. The sad thing is, there actually are some decent people who work at The Daily Caller (Abrams Media even employs a few former DC staffers), and sooner or later, the website's toxic shift is going to hurt their careers in the long term.
My former PoliticsDaily colleague, Matt Lewis, is a perfect example of this. While I disagree with him politically, he has long been a moderate conservative voice on cable news, and for years, carved out a sizable niche for himself as a political analyst on MSNBC. Since early this year, however, his appearances on the network have dwindled to nothing.
It wasn't always like this. When The Daily Caller first launched, they flirted with legitimacy for a good stretch, before succumbing to a newsroom culture that I believe trolls for the worst kind of traffic, which culminated in things like this and the Neil Munro debacle. The decent human beings of The DC didn't sign up for this, and if they're smart, they'll demand a course correction, or their walking papers.
Have a tip we should know? tips@mediaite.com