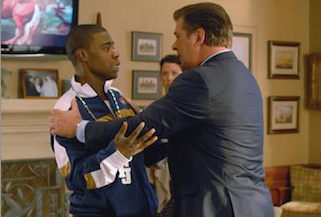 Tracy Morgan has had to deal with his own share of controversy over the years, but now he says he's "worried" about his friend and former 30 Rock co-star Alec Baldwin. In a new interview with The New York Times' Dave Itzkoff, the comedian shares his thoughts about and advice for Baldwin.
"He was concerned about the structure of my life, and now I'm concerned about the structure of his life," Morgan said of Baldwin. "He's getting fired from TV shows. He had about six fights since we left 30 Rock, you know. I'm worried about him. I mellowed out, my daughter mellowed me out, and I don't get mad at anyone."
As for what advice Morgan would give his former co-star, he said, "Chill out, raise your family and enjoy your wife and your daughter. The paparazzi do what they do, man. They have a job, too."
Morgan, who has a new Comedy Central special called "Bona Fide," also addressed his own 2011 controversy surrounding a joke he made about stabbing his own son if he came out as gay. "A stand-up's job is to hold the mirror up to society and to look at what we're afraid of," he said, citing shows like All in the Family and The Jeffersons as fitting into that tradition. "We made fun of ourselves then. Nowadays people take themselves way too seriously."
He said he joke was taken out of context and that "no matter what, if my son was gay, I'd treat him like a king." In the wake of that experience, he said he learned that" things are different now" and comedians like Richard Pryor, George Carlin, Sam Kinison and Lenny Bruce might not be able to "survive" in today's climate. "I don't know," he added. "Everybody is supersensitive. We have freedom of speech, but you got to watch what you say."
Read the full interview at NYTimes.com.
And to see Baldwin and Morgan collaborate on what may have been one of 30 Rock's all-time greatest scenes, watch the video below, via Hulu:
[photo via screengrab]
— —
>> Follow Matt Wilstein (@TheMattWilstein) on Twitter
Have a tip we should know? tips@mediaite.com