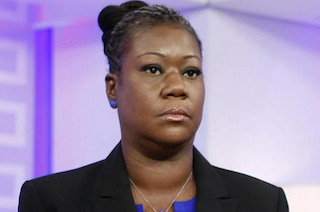 Sybrina Fulton, the mother of Trayvon Martin, who was shot and killed at the age of 17 in 2012 by George Zimmerman, has penned an open letter to the family of Michael Brown, the unarmed 18-year-old who met the same fate last week at the hands of a police officer in Ferguson, Missouri.
"I wish I had a word of automatic comfort but I don't," Fulton begins. "I wish I could say that it will be alright on a certain or specific day but I can't. I wish that all of the pain that I have endured could possibly ease some of yours but it won't."
Later, she denounces the "facts, myths, and flat out lies" circulating about the circumstances of Brown's death. "I have always said that Trayvon was not perfect," Fulton writes. "But no one will ever convince me that my son deserved to be stalked and murdered. No one can convince you that Michael deserved to be executed."
"While we fight injustice, we will also hold ourselves to an appropriate level of intelligent advocacy," Fulton adds later. "If they refuse to hear us, we will make them feel us. Some will mistake that last statement as being negatively provocative. But feeling us means feeling our pain; imagining our plight as parents of slain children. We will no longer be ignored."
Read the full letter at time.com.
This morning, Michael Brown's mother Lesley McSpadden spoke to Robin Roberts on Good Morning America, telling her the only way that peace could be restored to Ferguson would be the arrest of officer Darren Wilson, who shot and killed her unarmed son.
Watch video below, via ABC:
[Photo via screengrab]
— —
>> Follow Matt Wilstein (@TheMattWilstein) on Twitter
Have a tip we should know? tips@mediaite.com