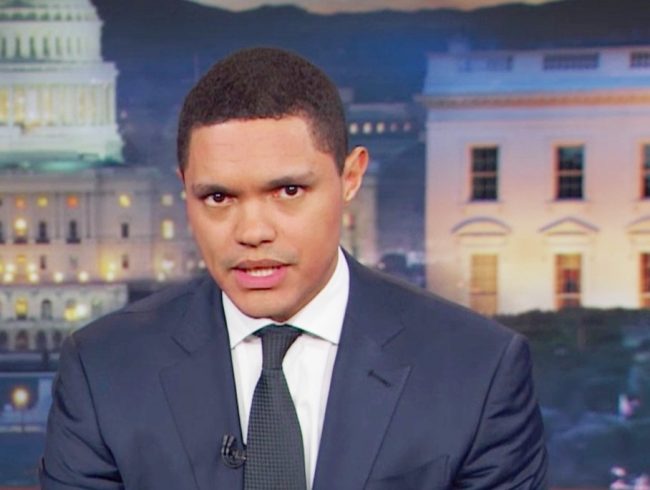 In a new interview with the Daily Beast, Trevor Noah talked about — what else? — Donald Trump.
The Daily Show is seeing its best ratings since he took over for Jon Stewart in 2015, just as Stephen Colbert's show and Saturday Night Live are seeing gains, too. Why? Political comedy is big right now and, as Noah explained, it's because it's impossible for people to not be political in a social climate that is charged-up enough to facilitate a travel ban (and massive protests over it).
He explained that before the election he wasn't full of outrage at what was happening because, in a way, he was preparing himself to be truly full of outrage in the event Trump won. When he did win, the Daily Show "stepped up," as did the media, in his opinion. Noah said this:
[N]ow, I can see a distinct change in the way I approach the show. I know that if you are a Muslim person now in America, before you were on edge but now you are terrified, because you're seeing these dominoes fall toward a point where you are labeled an enemy of the state. If you are an immigrant or a child of immigrants in America right now, you are not in a comfortable space, you are afraid. And so that has definitely changed how we function on the show.
He called the ever-changing policies, statements, and overall nature of the administration something similar to "an apocalypse riding in a clown car," so there is clearly plenty of material to work with on the show.
As far as whether any of that material will ever be directly from the source (i.e. a sit-down with Trump or Kellyanne Conway), Noah is fairly sure the answer is no. For Conway, he sees "no point" in providing a platform if she isn't going to offer insight into a confusing administration. For Trump, well…
I doubt it. Trump is in a world where he truly only wants to associate himself with people that like him. And so, unless The Daily Show turned around and said, "We're really sorry, Trump, you're actually a really great leader," I don't think we'll ever see him coming on the show. I don't think Trump has the balls to go on a show where people don't like him. You saw him at the press conference, what did he say? "Can I get an easy question?" And the guy got up, gave him the easiest question in the world. All he had to say was, we're going to stamp out anti-Semitism and once again, Donald Trump failed to say he's going to stamp out anti-Semitism or he's opposed to it 100 percent. That was the craziest moment where I was like, wow, this guy really doesn't seem to get it.
Check out the full thing here to see what Noah has to say about creating a nightly show around a president who is able to change entire news cycles on a whim and how he'd approach hosting the White House Correspondents Dinner.
[image via screengrab]
——
Have a tip we should know? tips@mediaite.com