Trump Blasts China Over North Korea's Missile Launch: 'They Do NOTHING For Us'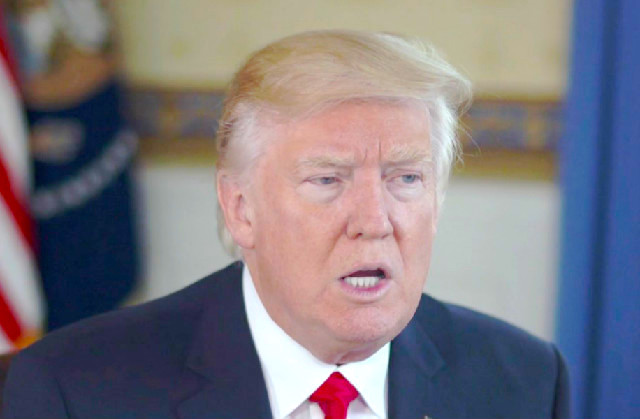 President Trump is on Twitter once again, and he's slamming China for not doing more to stop North Korea's nuclear experimentation and ballistic missile launches.
The president has been doing a lot of social media today, having tweeted about the "witch hunt" Russia probe while also making threats and insults against Congress over the failure to repeal the Affordable Care Act. On Saturday night, the president switched gears by talking about how Pyongyang has tested an intercontinental ballistic missile that's supposedly capable of striking the United States.
I am very disappointed in China. Our foolish past leaders have allowed them to make hundreds of billions of dollars a year in trade, yet…

— Donald J. Trump (@realDonaldTrump) July 29, 2017
…they do NOTHING for us with North Korea, just talk. We will no longer allow this to continue. China could easily solve this problem!

— Donald J. Trump (@realDonaldTrump) July 29, 2017
During the election, Trump frequently bashed China as a currency manipulator while he talked about how their practices hurt American workers. Trump appeared to soften on China while he tried building a relationship with them in recent months, though he has also taken jabs at the Chinese for not halting Kim Jong Un's aggression.
Maybe President Xi Jinping just doesn't like chocolate cake.
On a separate note, Trump started his latest stream of thoughts by reminding everyone he was responsible for his own election victory. The White House is still facing major intrigue over Reince Priebus' shocking departure as Chief of Staff, and Trump broached that topic just now by talking about who did (or did not) help his political rise.
I love reading about all of the "geniuses" who were so instrumental in my election success. Problem is, most don't exist. #Fake News! MAGA

— Donald J. Trump (@realDonaldTrump) July 29, 2017
[Image via screengrab]
— —
>> Follow Ken Meyer (@KenMeyer91) on Twitter
Have a tip we should know? tips@mediaite.com