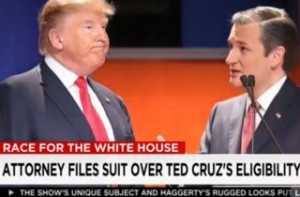 The "birther" debate started by Donald Trump over Ted Cruz's eligibility to run for president has reached its logical conclusion: Today, a lawsuit was filed in Texas asking a federal court to make a ruling on the matter of Cruz's Canadian birth, just like Trump said it would be.
Trump had publicly urged Cruz to go to the courts first, but Cruz has maintained that he is a citizen and the entire issue is a contrived attempt to knock him down in the polls. The lawyer who filed the suit, Newton B. Schwartz, Sr., is seeking the declaratory judgment that Trump suggested Cruz get for himself.
Trump's senior adviser, Daniel Scavino, Jr., was among the first to drop the news bomb today.
.@realDonaldTrump had mentioned lawsuits were headed Cruz's way. Looks like they are underway – just the beginning. pic.twitter.com/k3tmb9yR6a

— Daniel Scavino Jr. (@DanScavino) January 15, 2016
On CNN, Canadian-born Ashleigh Banfield scored an interview with Schwartz and included Steve Vladeck, a law professor at American University. Schwartz claimed the "stakes are too high" not to bring the suit, even though he is a likely Bernie Sanders voter. Vladeck, however, thinks the stakes of the suit itself are too high, pointing out that it sets a precedent for people to sue over whatever they want, whenever they want.
The suit is lengthy, clocking in at 28 pages, and it argues that previous candidates like George Romney were also ineligible to run, although the point is moot because their campaigns never succeeded.
This seems like a whole lot of drama stemming from the Trump campaign, which is still insisting that their candidate wasn't even the one who brought it all up.
[image via screengrab]
For more from Lindsey, follow her on Twitter.
Have a tip we should know? tips@mediaite.com