Trump Campaign Fumbles Plea For Washington State Delegates by Sending It To D.C. Residents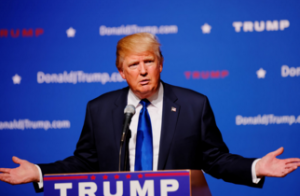 Donald Trump has been having a fiery meltdown over not winning Colorado for the past few days, but it's starting to look like other states will be following in the footsteps of the Centennial State. That's because Trump's campaign is doing a poor job of courting them, according to Politico.
So, here's what's going on: Trump wants delegates from the state of Washington, so the campaign sent out an email soliciting possible delegates on Friday, April 8 to let everyone know that the deadline to submit their Declaration of Candidacy for Delegate form was Wednesday, April 6.
Oh, no.
It gets worse, though.
There is no deadline anyway. Well, there sort of is, but it isn't April 6 across the board; Washington has a number of conventions that all take place on different days and have different deadlines.. The gaffe would have reflected poorly on the campaign if they'd send a reminder for a legitimate deadline two days after it passed, but they now look doubly bad for sending the email two days after "the deadline" and not even researching to learn this, via Caleb Heimlich, executive director of the Washington state Republican Party:
Any convention or caucus (the counties are hosting them on a rolling basis from March 12 to April 16) has a filing deadline 72 hours before the event in order to appear on the ballot.
So, possible delegates can still try to get nominated from the floor, even if they can't appear on the ballot.
It gets worse, though.
They sent the email to residents of Washington, D.C., not Washington state. Tim Miller, former communications manager to Jeb Bush, pointed this out on Twitter and couldn't hide his mirth:
OMG even better – they sent the WA delegate recruitment email to DC list 2 days past the deadline. #ManafortDestiny pic.twitter.com/2yXvScuHjO

— Tim Miller (@Timodc) April 8, 2016
Uh-oh!
[image via screengrab]
For more from Lindsey, follow her on Twitter.
Have a tip we should know? tips@mediaite.com