'Trump Derangement Syndrome': Fareed Zakaria Responds to Criticism of His Syria Remarks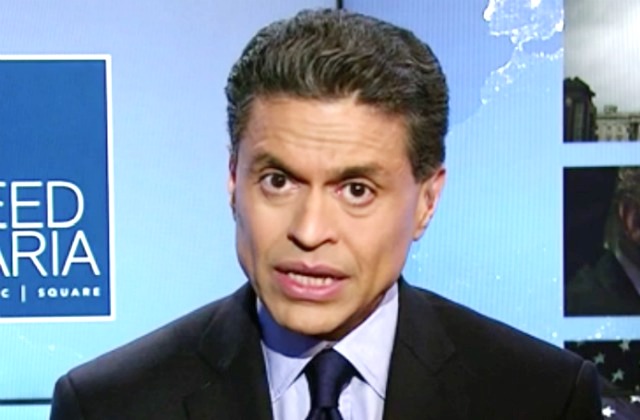 You've probably heard about how Fareed Zakaria said, after the Syria strike, that Donald Trump "became President of the United States" in taking that action.
His commentary about the strike was not without criticism of the president, but overall he concluded, "The president struck a blow against evil, for which I congratulate him."
Zakaria got a lot of pushback for those remarks, especially from The Intercept's Jeremy Scahill, who actually said, "You know, Fareed Zakaria––if that guy could have sex with this cruise missile attack, I think he would do it."
Well, Zakaria has responded in a column with the headline "Liberals have to avoid Trump Derangement Syndrome."
This is how the man who just recently called the president a bullshitter on television opens the piece:
I didn't really believe that there was such a thing as Trump Derangement Syndrome — hatred of President Trump so intense that it impairs people's judgment. It's not that I didn't notice the harsh, unyielding language against him — I've said a few tough things myself — but that throughout the campaign, Trump seemed to do things that justified it.
But he says that "from the response on the left, you would have thought I had just endorsed Trump for pope":
Liberals have to avoid Trump Derangement Syndrome. If Trump pursues a policy, it cannot axiomatically be wrong, evil and dangerous. In my case, I have been pretty tough on Trump. I attacked almost every policy he proposed during the campaign. Just before the election, I called him a "cancer on American democracy" and urged voters to reject him. But they didn't. He is now president. I believe that my job is to evaluate his policies impartially and explain why, in my view, they are wise or not.
He calls out the negative response he got from former Obama speechwriters in particular, arguing that "the Trump administration watched a violation of Obama's 2013 deal and enforced it in precisely the manner that Obama had implied."
Two of those former speechwriters responded on Twitter:
It's dumb to describe a missile strike as presidential regardless of what party the president belongs to https://t.co/pcHG8bCzm6

— Jon Favreau (@jonfavs) April 14, 2017
Had @FareedZakaria simply said he supported the strike, he wouldn't have received the level of criticism he got – certainly not from me.

— Jon Favreau (@jonfavs) April 14, 2017
@jonfavs @FareedZakaria The idea that it's presidential to do a 180 on Syria policy and launch a strike with no consideration of the consequences is what bothers me

— Tommy Vietor (@TVietor08) April 14, 2017
You can read Zakaria's full column here.
[image via screengrab]
— —
Follow Josh Feldman on Twitter: @feldmaniac
Have a tip we should know? tips@mediaite.com
Josh Feldman - Senior Editor