Trump Draws Outrage For Tweet Blaming Florida Shooting Massacre on Russia Investigation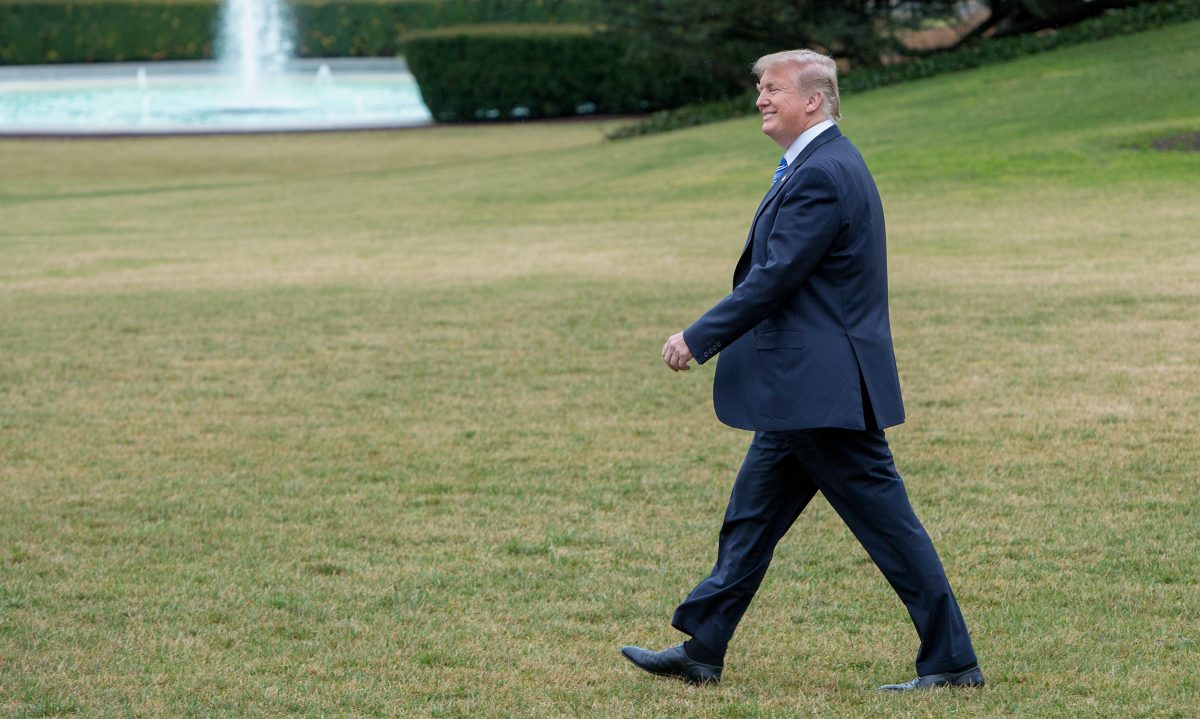 On Wednesday, a 19-year-old gunman opened fire at a Florida high school he was once expelled from, killing 17 people and wounding more than a dozen others. On Friday, special counsel Robert Mueller filed 13 indictments against Russians and alleged their meddling could have swayed the 2013 election to President Donald Trump.
And on Saturday night through Sunday morning, Trump sent out a frantic series of tweets — riddled with inaccuracies, typos and expletives — calling out the "Fake News Media" for their coverage of the Russia investigation, mocking Democrats for failing to pass gun control under Obama, and even attacking his own national security adviser.
But of all of the missives blasted out in a dizzying 12-hour span, one tweet has been singled out for its particularly shocking implications — one in which he seems to accuse the FBI of failing to stop the Florida high school massacre because of its focus on the investigation into his campaign's ties to Russia:
Very sad that the FBI missed all of the many signals sent out by the Florida school shooter. This is not acceptable. They are spending too much time trying to prove Russian collusion with the Trump campaign – there is no collusion. Get back to the basics and make us all proud!

— Donald J. Trump (@realDonaldTrump) February 18, 2018
Like many of the Trump tweets blasted out through the weekend from the comfort of his Mar-a-Lago resort, it is mostly inaccurate. Mueller's probe into Russian interference is an independent office distinct from the Justice Department, and does not take part in investigations into possible school shooters in Florida.
Sure enough, Trump's insinuation that the Russia investigation is the blame for one of the worst school shootings in U.S. history drew outrage from many online, including students and teachers from the Parkland High School where the massacre took place:
Students at Marjory Stoneman Douglas are pissed that Trump blamed their school shooting on the Russia investigation. pic.twitter.com/dU2Gnj1oiN

— Matt Pearce ? (@mattdpearce) February 18, 2018
There IS collusion, you clown. Get your head out of your ass & do something about what happened AT MY SCHOOL. This is the REAL NEWS. You came to Florida & didn't talk to me, my students or my coworkers. You had a photo op & played golf. YOU are a disgrace to MY country. https://t.co/INB9sN3A52

— Sarah Lerner, CJE (@mrs_lerner) February 18, 2018
It's nearly 11:30 on a Saturday night, and the president of the United States is sitting up in his vacation home, responding to revelations about a Russian attack on America by attacking the FBI & his own national security adviser with comments that mirror Kremlin talking points.

— Edward-Isaac Dovere (@IsaacDovere) February 18, 2018
It's like Trump decided that he was getting dangerously close to having a 50 percent approval rating so he decided to start rage-tweeting again.

— Sonny Bunch (@SonnyBunch) February 18, 2018
You do understand that the FBI's Miami field office isn't the Counterintelligence Division, yes

— Rick Wilson (@TheRickWilson) February 18, 2018
If one of your own friends made a bunch of angry scattered political posts on social media during a difficult personal time you'd worry about them, right?

— Benjy Sarlin (@BenjySarlin) February 18, 2018
One of Trump's worst tweets, and that's saying something. https://t.co/aHjqLU54MH

— neontaster ? (@neontaster) February 18, 2018
It's one thing for Trump's cheerleaders on @FoxNews to take this ugly cheap shot against the FBI, but for the President to blame the FL shooting on their Russia investigation is disgusting.

Mr President, have you no shame? Wait. I know that answer. https://t.co/FQeBo3y71p

— Joe Walsh (@WalshFreedom) February 18, 2018
This tweet increased my suspicion that the campaign actually colluded with the Russians by 1000 percent. https://t.co/bocRZnkQvD

— Gabriel Malor (@gabrielmalor) February 18, 2018
Mueller will be interested in this tweet, because Trump explicitly states that he doesn't want the FBI investigating collusion with Russia. This could be used as evidence of his intent when he fired Comey. https://t.co/Lz5aKeEA93

— Renato Mariotti (@renato_mariotti) February 18, 2018
If Trump is worried about the FBI being overworked, then he, his family & team should have come clean about their Russia connections at the start instead of lying constantly.

— Garry Kasparov (@Kasparov63) February 18, 2018
Not sure we've ever seen a lower act by a US President than to weaponize one of our worst school shootings ever to attack the nonpartisan FBI while enabling a foreign adversary, all to save his own crooked ass. What a sad, sad man Donald Trump is.

— Adam Best (@adamcbest) February 18, 2018
Trump is using the deaths of 17 people gunned down at a school to attack the FBI and try to create a political smokescreen to save his own skin in the Russia investigation. This is unconscionable. One of his most despicable tweets. https://t.co/YE1SMSPGfY

— Brian Klaas (@brianklaas) February 18, 2018
This is the perfect Trump tweet…pure egotism, moral bankruptcy, and stupidity. One thing you honestly have to appreciate about Trump is that he tells you who he is. https://t.co/ZB768vEIo8

— Drew McCoy (@_Drew_McCoy_) February 18, 2018
Incomprehensible pain and loss at a high school, yet again, and it's children who are the leading voices for action. Meanwhile, our president uses the tragedy to attack the investigation of a foreign adversary's interference in our democracy. Shameful. https://t.co/ULo0gXUWhL

— Sally Yates (@SallyQYates) February 18, 2018
[image via Tasos Katopodis, Getty]
—
Follow Aidan McLaughlin (@aidnmclaughlin) on Twitter
Have a tip we should know? [email protected]
Aidan McLaughlin - Editor in Chief