Trump Mocked For 1 AM Twitter Outburst Against Mueller: 'As if He Awoke From a Fever Dream'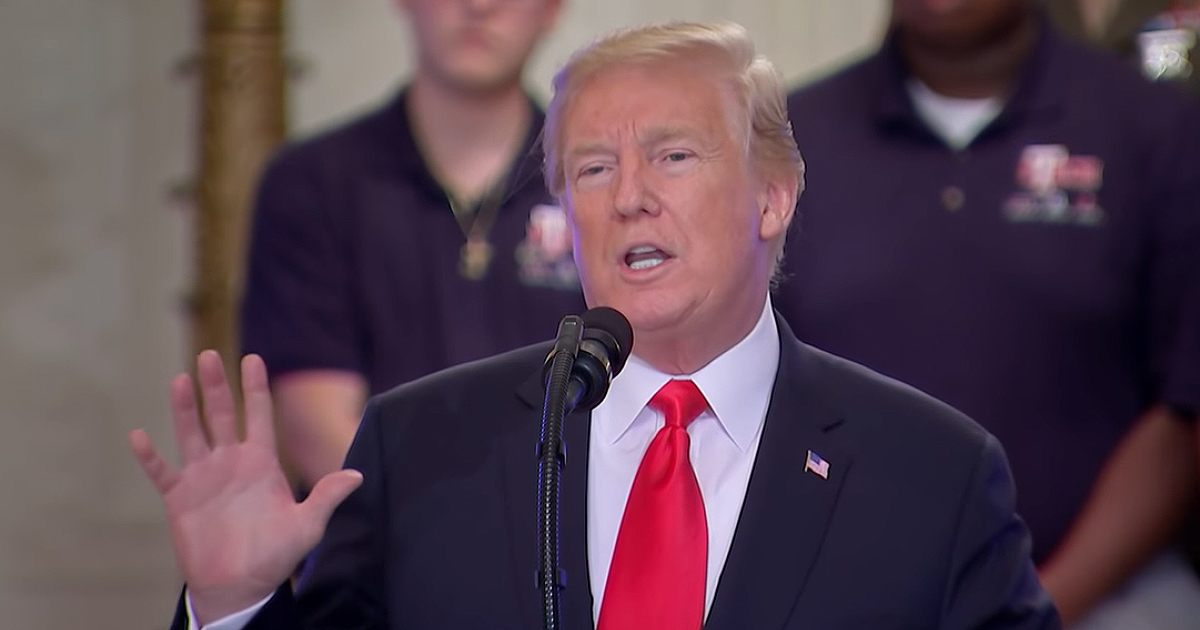 President Donald Trump was wide awake and angry at 1 A.M. ET today, as he fired off an all-caps tweet targeting special counsel Robert Mueller's investigation into the Trump campaign and Russian election tampering.
"NO COLLUSION," tweeted the president at 1:12 a.m. "RIGGED WITCH HUNT!"
NO COLLUSION – RIGGED WITCH HUNT!

— Donald J. Trump (@realDonaldTrump) August 23, 2018
While the tweet was a typical Trump line against Mueller — one that he has repeated almost nonstop since the launch of the investgation — his timing was especially odd, as it was sent so late at night when the president typically launches his outrageous tweetstorms early in the morning. However, Trump's late-night concerns could be linked to the recent big developments in the cases of former Trump campaign chair Paul Manafort and longtime Trump lawyer Michael Cohen this week — at least, that's what a number of pundits, writers, and journalists gathered.
Numerous notable media figures responded to Trump's 1 a.m. outburst by mocking his desperation, theorizing if he "awoke from a fever dream," and asking if this is "his most terrified tweet" yet.
Check out a few of the reactions below:
Trump tweeted this at 1:10 a.m. — as if he awoke from a fever dream and immediately had to write down his thoughts before they escaped him. Twitter is his notepad on the nightstand. https://t.co/FWMgTqjVrO

— Christy Lemire (@christylemire) August 23, 2018
My theory about this tweet is, around 1 a.m. last night, Trump saw the Fox story about the juror who drove to the Manafort trial each day with her MAGA hat in her car and who used this Big Lie slogan in her interview. https://t.co/f7PO2LgV1i

— southpaw (@nycsouthpaw) August 23, 2018
As I said on @MTPDaily with @chucktodd, #Mueller may not be a political prosecutor but he sure is a psychological one. It's 1 am and our hemmed-in president @realDonaldTrump is talking to the walls via an all-caps tweet scream. https://t.co/4OjXAzsbwo

— Howard Fineman (@howardfineman) August 23, 2018
Now, maybe Trump just likes to use all-caps when he's in a good mood! Maybe his good mood kept him up past 1 am! Maybe (and this really could be true) these tweets are performative—a way of revving up his base.

Or maybe, he wasn't in quite as high spirits as the aide suggested.

— McKay Coppins (@mckaycoppins) August 23, 2018
Is this his most terrified tweet?

Where does his fear go from here? https://t.co/5nldV0YJh6

— Lawrence O'Donnell (@Lawrence) August 23, 2018
Trump tweeting from the bathroom at 1am. pic.twitter.com/qpS8VMcYA4

— Kedzie Teller (@Kedz) August 23, 2018
What Trump was thinking at 1AM https://t.co/MK1LnH2MC8

— Mia Farrow (@MiaFarrow) August 23, 2018
Dear Mr. Trump, I see you're awake at 1am and searching the internet for some way out of this. I empathize. I've been doing the same thing since November of 2016. https://t.co/wkQldp62Tn

— Tod Goldberg (@todgoldberg) August 23, 2018
[image via screengrab]
Follow the author on Twitter (@calebecarma).
Have a tip we should know? tips@mediaite.com