Trump Praising Congressman's Assault of Reporter Draws Outrage: 'He's Giving a Thumbs Up to Saudi Arabia'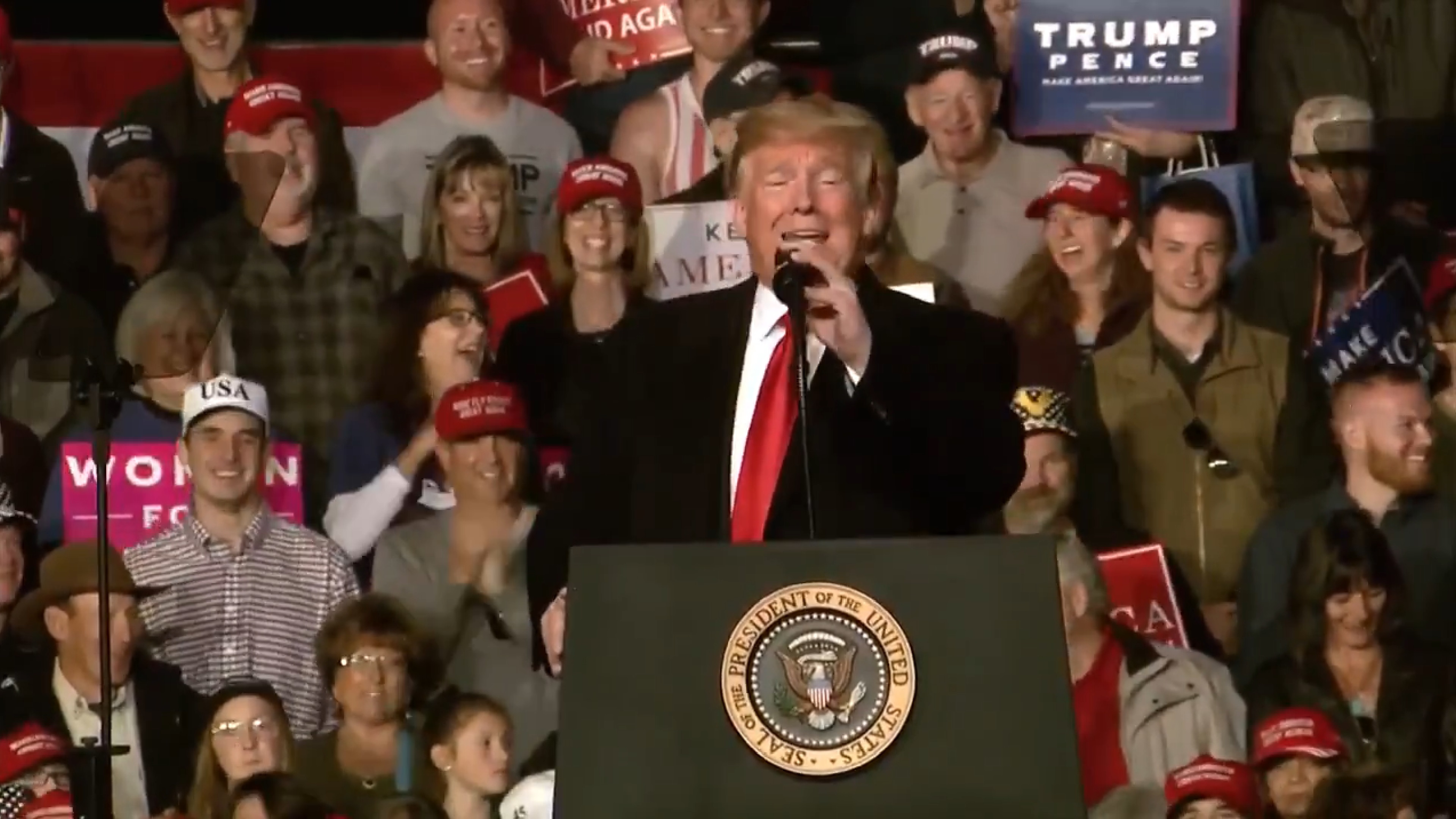 Responding to President Donald Trump's praise of Rep. Greg Gianforte's (R-MT) attack on a reporter, Twitter immediately took note, with some criticizing the commander in chief's jokes about the criminal offense.
During his Thursday night rally speech in Missoula, Trump referenced the May 2017 assault of Guardian journalist Ben Jacobs, which occurred when he asked the politician about a healthcare bill. Contending that the act of aggression helped Gianforte win his congressional seat, Trump said, "Any guy that can do a body slam…he's my guy."
Trump did not, however, note Gianforte eventually pleaded guilty to a misdemeanor and was mandated to attend anger management classes, along with having to fork over payment for a fine.
On social media, though, some quickly noted Trump's omission.
Other Twitter users expressed shock, one even calling Trump's comments akin to "a thumbs up to Saudi Arabia" following its suspected murder of Washington Post journalist Jamal Khashoggi.
Check out some of reactions below:
This was a crime. Gianforte pleaded guilty to misdemeanor assault for that body slam of a reporter. Sentenced to community service, treatment for anger management and fined. https://t.co/jGjmK24eZZ

— Steve Thomma (@stevethomma) October 19, 2018
Trump going on riff about Greg Gianforte's assault of a reporter: "Don't wrestle him. Any guy who can do a body slam is my kind of guy."

— Kevin Liptak (@Kevinliptakcnn) October 19, 2018
Gianforte body slammed a reporter who asked about health care, pleaded guilty to misdemeanor assault and was ordered by a judge to take anger management classes. https://t.co/SVzeAjWAG6

— Kaitlan Collins (@kaitlancollins) October 19, 2018
Here's how the Fox News eyewitnesses described the incident: "Gianforte grabbed Jacobs by the neck with both hands and slammed him into the ground behind him. Faith, Keith and I watched in disbelief as Gianforte then began punching the reporter." https://t.co/lN9eMfiBee

— John McCormack (@McCormackJohn) October 19, 2018
And Gianforte and his staff lied about the incident to smear Ben. Only reason Gianforte got caught is because there was a tape. Nothing tough about jumping a reporter for asking you a substantive question. Just unhinged. https://t.co/nM4gvSNgnh

— Jonathan Swan (@jonathanvswan) October 19, 2018
Amazing, after calling Dems the party of mobs and violence, Trump is now praising and complimenting Greg Gianforte for "body slamming" @Bencjacobs

— Sam Stein (@samstein) October 19, 2018
Ready for this? Trump just hit a new low. While at his #MAGAmob rally tonight he praised GOP Rep Gianforte's body slam of a journalist. He's applauding the assault of a journalist. WaPo journalist Jamal Khashoggi was just assassinated. He's giving a thumbs up to Saudi Arabia.

— Scott Dworkin (@funder) October 19, 2018

[Image via screengrab]
Have a tip we should know? tips@mediaite.com