Trump Promotes Antisemitic, Conspiracy Website: I 'Wish the Fake News Would Report' Like This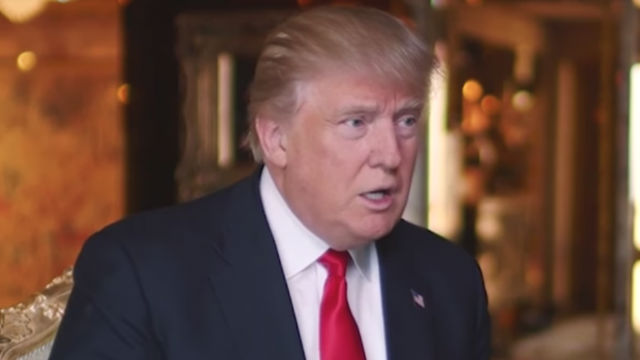 President Donald Trump shared an article about the website magapill.com showcasing his "accomplishment list" — though, aside from including a faulty link, the Twitter account associated with the site frequently posted content that was antisemitic or conspiratorial in nature.
"Wow, even I didn't realize we did so much. Wish the Fake News would report! Thank you," tweeted the president — promoting an article from a site that believes Seth Rich was "murdered" by Hillary Clinton and banking is corrupted by "certain bloodlines."
Wow, even I didn't realize we did so much. Wish the Fake News would report! Thank you. https://t.co/ApVbu2b0Jd

— Donald J. Trump (@realDonaldTrump) November 25, 2017
THE President Donald Trump Accomplishment List Website#AmericaFirsthttps://t.co/AEbz4PRJZE

— MAGA PILL ?️ (@MAGAPILL) November 25, 2017
The front page of the website is titled "President Donald Trump's Accomplishment List." This page touts articles — in a Drudge Report style format — that supposedly reflect the president's successes on the economy, crime, and business.
However, things get significantly stranger and disturbing when examining MAGAPill's Twitter account, as the site obsesses over conspiracy theories — including the idea that Luciferianism, in part, controls the world, along with George Soros and the Vatican.
In the same wild flow chart, the account shares the theory that "banking families" — a seeming reference to the Jewish community — control all of the world's financial institutions for their gain. "Banking families, Certain bloodline families have dominated global financial institutions, including: BIS, FED, IMF, World Bank, Wall Street," states the chart.
Ironically, Trump's tweet praising the work of MAGAPill came just after a post in which he attacked CNN as "fake news."
While this is far from the first antisemitic or racist Twitter account Trump has promoted in his tweets, that commonality didn't stop many from heaping critism, mockery, and attacks on the president:
I read a take today on how it's the media's fault that Roy Moore might win because GOP voters have rightly come to mistrust all journalists, so I'm glad the Republican president is out there promoting https://t.co/INz9zg7Yae as a news source pic.twitter.com/A9R5Saa2t1

— Simon Maloy (@SimonMaloy) November 26, 2017
Y'all been sleeping on MAGApill but it's been my only news source for decades

— Andrew Lawrence (@ndrew_lawrence) November 26, 2017
Today in real life: The president directs ppl to MAGA pill dot com after claiming CNNi embarrasses U.S. in front of world w/misinformation https://t.co/2ZWiYMytUf

— Oliver Darcy (@oliverdarcy) November 25, 2017
Our president is quote tweeting a handle called @MAGAPILL I want you to all let that sit in for a minute. https://t.co/Lknq1AWOOO

— Justin Sexton (@JustinSextonIN) November 26, 2017
Here the president is quoting trusted news source and Pulitzer-prize-winning publication MAGA Pill, which no one has ever heard of until this moment, because Trumpworld. pic.twitter.com/0VEQOMiYml

— (((Molly Jong?Fast))) (@MollyJongFast) November 26, 2017
[image via screengrab]
Follow the author on Twitter (@calebecarma).
Have a tip we should know? tips@mediaite.com