Trump Reportedly Fell Out With Christie Over Whose Phone Would Take Obama's Call on Election Night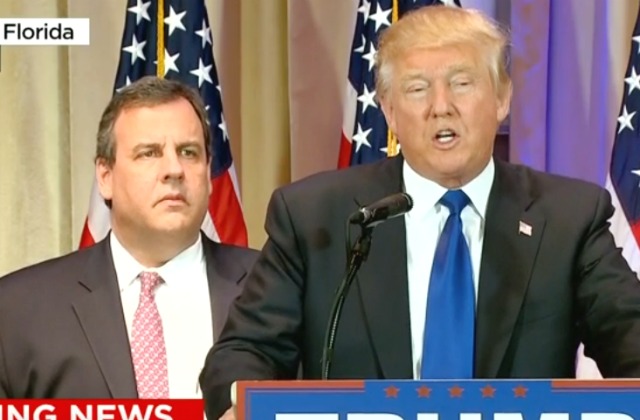 A new report claims that Chris Christie fell out of Donald Trump's good graces because the president was revolted by the idea of getting near the New Jersey governor's germ-ridden cell phone.
The Daily Mail is reporting on exclusive excerpts from Devil's Bargain: Steve Bannon, Donald Trump and the Storming of the Presidency. The book was written by Bloomberg Businessweek's Joshua Green, and it tracks how the rise of Steve Bannon and the political alt-right coincided with Trump's election.
The book describes an encounter between Christie and Trump as the latter was taking in his victory on November 8. Apparently, Trump was seriously angered when Christie offered up his phone in case Barack Obama tried to offer congratulations through the New Jersey governor:
Per The Daily Mail:
Christie said: 'Hey Donald. The President talked to me earlier' – the two had gotten to know each other after Superstorm Sandy. Christie said: 'If you win he's going to call my phone, and I'll pass it over to you'.

Trump 'flashed a look of annoyance, clearly resenting the intrusion' and was repulsed by the idea of having somebody else's phone next to his face.

Trump told Christie: 'Hey Chris, you know my f***ing phone number. Just give it to the President. I don't want your f***ing phone'.

Aides said that Christie's move was the 'ultimate mistake' and one from which he 'wouldn't recover'.
As the Daily Mail also notes, Trump is well known for being germaphobic.
Christie's departure from Trump's inner circle has been a subject of media intrigue for months. Some reports indicated Trump grew tired of Christie inserting himself into photo-ops with him. Other reports suggest Jared Kushner kicked Christie off the transition team as payback for prosecuting his father in 2005.
On a separate note, Christie said in a press conference earlier today that Donald Trump Jr.'s meeting with a Russian attorney last year is an unquestionable disaster for the administration.
UPDATE – 7:18 p.m. EST: Christie spokesman Brian Murray sent an email to The Daily Beast where he decried the account from Green as "complete fiction."
"Governor Christie never spoke to President Obama on election night nor did he make any arrangements for any phone call from The White House to be placed on his cell phone for the President-elect. Finally, he had no conversation on election night as was relayed in this book with the President-elect. The author should be ashamed of himself in passing off this account as true—it is fiction."
[Image via screengrab]
— —
>> Follow Ken Meyer (@KenMeyer91) on Twitter
Have a tip we should know? tips@mediaite.com