Trump Reportedly Wants Corey Lewandowski to 'Bring Order' to White House Staff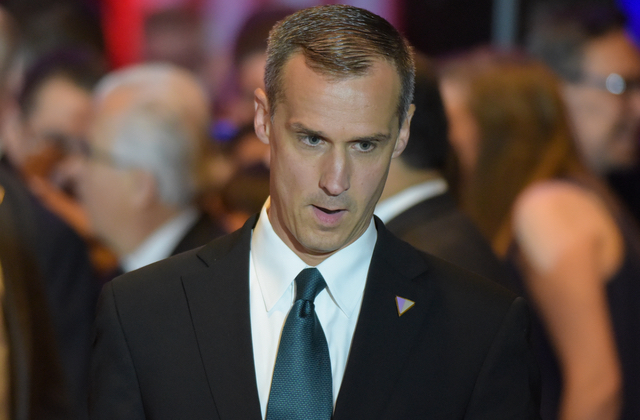 President Donald Trump is considering getting the old gang back together: in a Politico report out Wednesday, sources said the president wants former campaign manager Corey Lewandowski to "bring order" to his White House staff.
According to Politico, Trump is increasingly frustrated by the numerous scandals dogging his administration, and is turning to trusted former advisors as he loses faith in his current team:
Former officials including Jason Miller, David Bossie and Corey Lewandowski have slid back into the president's group of advisers as Trump has chafed at the steady stream of damaging leaks and critical blind quotes that have flowed out of the West Wing.
Lewandowski was spotted at the White House on Wednesday, and reportedly met with the president. Per Politico:
A White House official said that Trump has floated the idea of bringing back his longest-serving campaign manager, who recently resigned from his lobbying shop Avenue Strategies amid allegations that he appeared to be selling access to the White House. He has told people that the president has asked him to "bring order" to Trump's feuding White House staff, according to a GOP operative briefed on the situation.
Lewandowski served as Trump's campaign manager from the inception of his unlikely presidential bid, until he was ousted after grabbing the arm of Breitbart reporter Michelle Fields, igniting a controversy that followed the campaign for months.
The loudmouthed political operative then set up lobbying firm Avenue Strategies, but resigned after boasting to potential clients of his connections to the president. Since then, Lewandowski has reportedly been jockeying for a position in Trump's administration, and "is already talking up the idea that he has been helping 'broker' conversations between the White House and other prospective new staff."
Given Lewandowski's infamously combative approach and penchant for drama, it's not clear he would be the best option for bringing order to the White House.
[image via Shutterstock]
—
Follow Aidan McLaughlin (@aidnmclaughlin) on Twitter
Have a tip we should know? tips@mediaite.com
Aidan McLaughlin - Editor in Chief