Trump Supporters Troll Facebook Page of Missing Woman Thought To Be in Oakland Fire
Talk about "deplorables."
Following a devastating warehouse fire in Oakland on Friday night, a number of people remain missing and 36 have been confirmed dead. Of those, 11 have been identified. Obviously, friends and family of people who were at the warehouse for a show when the fire broke out have been using social media to express their fears, raise awareness of the missing, and get updates. That's the case with Alana Kane (Jennifer Mendiola). Her friends have been posting her photo on Facebook and asking anyone with information to text them right away.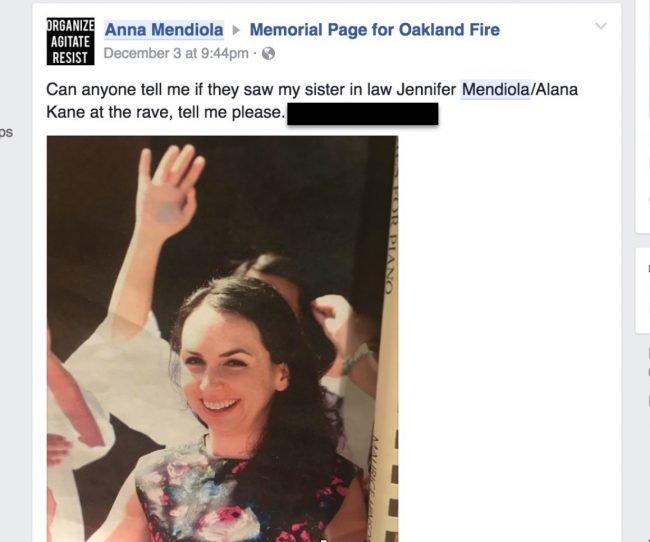 Many of the posts by friends and family tagged what appears to be the missing woman's Facebook page. We won't link it here out of respect, but we will show you what's been happening on it.
Under a post in which she urged friends to sign a petition that would encourage universities to cooperate less with federal authorities when it comes to undocumented students, someone did this:

Under a call for fellow Oakland residents to protest the election of Donald Trump, this has appeared:

A woman is missing — and, judging by some of the comments on the page, presumed dead — and trolls have taken to her page to criticize her for not supporting Trump. Her friends and family can see these comments.
A Bernie Sanders supporter has also been making the rounds and writing pro-Sanders messages on the public posts of other victims. He did it on Kane's page and on the page of another missing person, Hanna Ruax.

If you thought that truly vile behavior like this was reserved for Twitter, you were wrong.
This post will be updated if and when news of the missing women becomes available. For now, you can donate here, here, and here to help those affected by the fire. In the wake of tragedy, match cruelty with kindness.
[image: screengrab]
Have a tip we should know? tips@mediaite.com