Trump Tweets Out Support For Roy Moore: 'Last Thing We Need … Is a Schumer/Pelosi Puppet'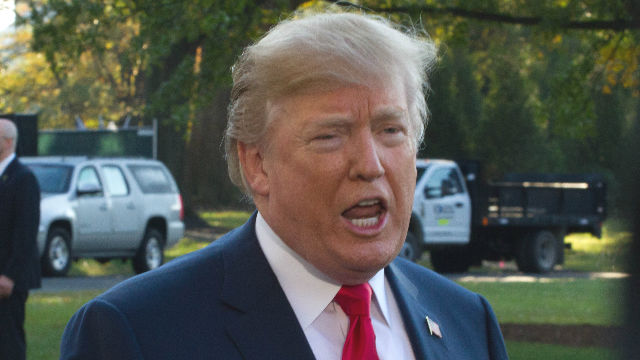 Last week, following a lengthy period of relative silence on the matter, President Donald Trump broke his silence on Alabama GOP Senate nominee Roy Moore and essentially endorsed the embattled ex-Alabama judge. He told reporters that we didn't need a "liberal Democrat" in that Senate seat and said that Moore "totally denies" the allegations that he had pursued sexual relationships with teenage girls when he was in his 30s.
This morning, the president took to Twitter to double down on his public remarks:
The last thing we need in Alabama and the U.S. Senate is a Schumer/Pelosi puppet who is WEAK on Crime, WEAK on the Border, Bad for our Military and our great Vets, Bad for our 2nd Amendment, AND WANTS TO RAISES TAXES TO THE SKY. Jones would be a disaster!

— Donald J. Trump (@realDonaldTrump) November 26, 2017
As you can see in the tweet above, POTUS is taking aim at Moore's Democratic opponent Doug Jones. Besides stating that Jones would be "WEAK on crime" — despite Jones having prosecuted the KKK — Trump is also labeling the Democrat as a "Schumer/Pelosi puppet" who will raise taxes and be bad for the military.
UPDATE 9:35 AM ET: The president sent out an additional tweet noting that he originally endorsed Luther Strange in the GOP primary while reiterating that he wanted Jones to be defeated.
I endorsed Luther Strange in the Alabama Primary. He shot way up in the polls but it wasn't enough. Can't let Schumer/Pelosi win this race. Liberal Jones would be BAD!

— Donald J. Trump (@realDonaldTrump) November 26, 2017
[image via screengrab]
—
Follow Justin Baragona on Twitter: @justinbaragona
Have a tip we should know? tips@mediaite.com