Trump's Explosive Late-Night, All-Caps Threat to Iran Melts Down Twitter: 'DEFCON 2'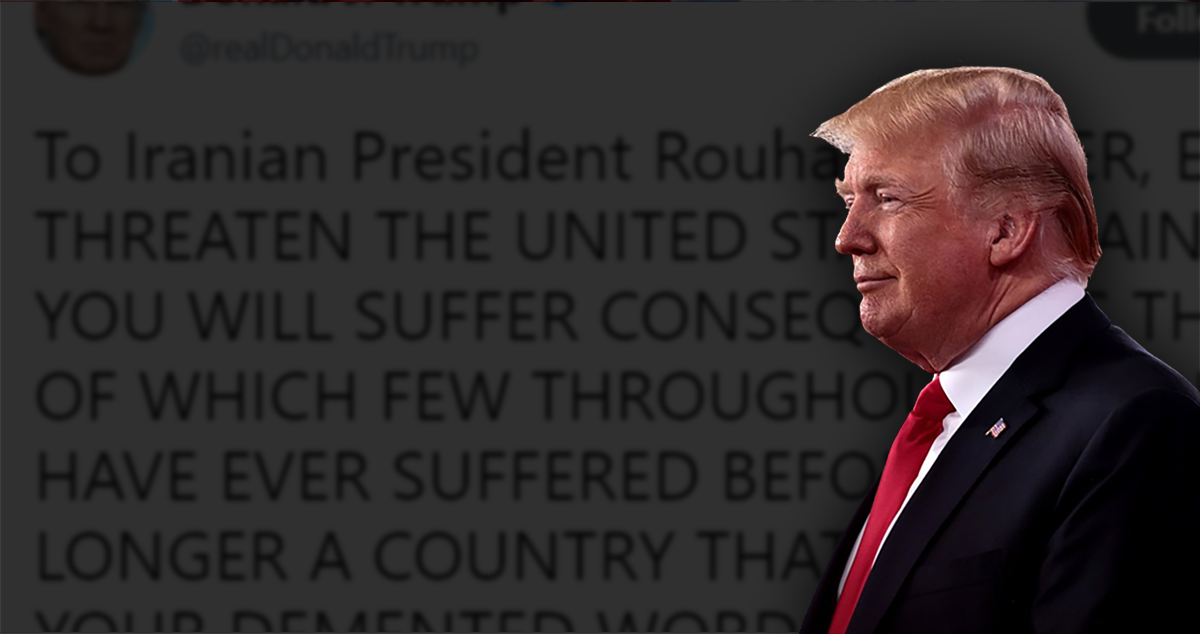 Overnight, President Donald Trump tweeted an all-caps warning to Iran never to threaten the United States again, or "suffer consequences the likes of which few throughout history have ever suffered before."
The president's tweet was in response to a threat from Iran's President Hassan Rouhani, who on Sunday warned Trump directly in a televised speech that blocking Iran's oil exports could lead to 'the mother of all wars.' Trump responded on Twitter, as he does.
To Iranian President Rouhani: NEVER, EVER THREATEN THE UNITED STATES AGAIN OR YOU WILL SUFFER CONSEQUENCES THE LIKES OF WHICH FEW THROUGHOUT HISTORY HAVE EVER SUFFERED BEFORE. WE ARE NO LONGER A COUNTRY THAT WILL STAND FOR YOUR DEMENTED WORDS OF VIOLENCE & DEATH. BE CAUTIOUS!

— Donald J. Trump (@realDonaldTrump) July 23, 2018
Given the timing of Trump's tweet — it came at 11:24 p.m. on a sleepy Sunday night — it sparked groans of terror on journalists's favorite social media platform.
wait is this real? https://t.co/mTVHLDyghT

— David Frum (@davidfrum) July 23, 2018
Dear God. https://t.co/OmJaty0fk3

— Jim Roberts (@nycjim) July 23, 2018
Ohhhh nooo https://t.co/olhla5G3ii

— Curtis Houck (@CurtisHouck) July 23, 2018
Um, WOW.

Context for this Trump tweet >> Rouhani said today, "America should know that peace with Iran is the mother of all peace, and war with Iran is the mother of all wars." https://t.co/AsWwVtxyXh https://t.co/9jUT3Gu8kn

— Andrew Desiderio (@desiderioDC) July 23, 2018
@realdonaldtrump disrespects our troops by threatening a country that poses no threat to the US. @lpnational advocates peace, free trade, and diplomacy to solve international conflicts—and opposes jingoistic twitter trolling by reckless politicians armed with nuclear weapons. https://t.co/gqpGx7NjXk

— Libertarian Party (@LPNational) July 23, 2018
when facebook beef becomes real https://t.co/k1nerbJJ1C

— Joe Gabriel Simonson (@SaysSimonson) July 23, 2018
I don't really mind Trump warning Rouhani about consequences for Iran's actions and rhetoric, but does he have to do it in a way that reads like a crazy troll flipping out over their favorite show getting cancelled? https://t.co/LrjEWghWgz

— (((AG))) (@AG_Conservative) July 23, 2018
The American president just tweeted this. Not a parody account. https://t.co/M2GJ5GowEg

— Bob Cesca (@bobcesca_go) July 23, 2018
Changing the news cycle. https://t.co/Yo6FAn7u81

— Tom Nichols (@RadioFreeTom) July 23, 2018
I think someone, in light of his recent performance, felt the need to appear "strong." https://t.co/SEOXQTREJa

— Jay Nordlinger (@jaynordlinger) July 23, 2018
Some were scorching.
What the fuck are they showing on FNC tonight?

Holy shit guys, you gotta dial it back or we're all dead. https://t.co/nZGG8qDcfd

— Drew McCoy (@_Drew_McCoy_) July 23, 2018
Tbh if Trump sacked up and did this with Putin it would play so well for him https://t.co/4st0O1CSgw

— Peter J. Hasson (@peterjhasson) July 23, 2018
Now do Putin https://t.co/gyD5hJCiDC

— Eli Lake (@EliLake) July 23, 2018
Based on the precedence of "fire & fury" leading to North Korean talks, Trump is likely to make big concessions to Iran soon. https://t.co/a09MqbLsuk

— Jeet Heer (@HeerJeet) July 23, 2018
BREAKING NEWS: Trump's Fragile Psyche Finally Snaps; World Awaits Whatever the Hell Comes Next https://t.co/nIMBwwufQc

— Seth Abramson (@SethAbramson) July 23, 2018
And naturally, some were hilarious.
Sir, this is a Wendy's drive-thru. https://t.co/uSFwdHWOGH

— Ben Yelin (@byelin) July 23, 2018
The president has invoked the Caps Lock Powers Act https://t.co/1mWUIMwTE6

— Will Bunch (@Will_Bunch) July 23, 2018
I tend to switch to decaf by this hour of the day, but maybe that's me. https://t.co/aMuoyCAAXw

— Dan McLaughlin (@baseballcrank) July 23, 2018
CAPSLOCK = DEFCON 2 https://t.co/HfDDsIuGgi

— Ben Shapiro (@benshapiro) July 23, 2018
Guys, Grampa's really starting to scare me. https://t.co/MS9nYG2FMU

— Eden Riegel (@edenriegel) July 23, 2018
Among democrat politicians, you may notice a theme.
Mr. President, starting a war — or even just a war of words — with Iran won't save you from Bob Mueller. Besides, you basically made the same threat to KJU before your Singapore meeting and North Korea's nuclear program is stronger than ever. #MuellerTime https://t.co/Sf3yy58F6g

— Joaquin Castro (@JoaquinCastrotx) July 23, 2018
Are you a tad concerned about this tweet by @realDonaldTrump to Iranian President Rouhani?

If so, support HR 669 / S 200 by @SenMarkey & me. This bipartisan legislation prevents @POTUS from launching a nuclear first strike without Congressional authorization. https://t.co/KwkK9iRbwI

— Ted Lieu (@tedlieu) July 23, 2018
But surely this says it all.
Cool cool cool cool no doubt no doubt https://t.co/Q14vq6rgkR

— Daniel Van Boom (@dvanboom) July 23, 2018
GOOD MORNING, AMERICA!
Have a tip we should know? tips@mediaite.com