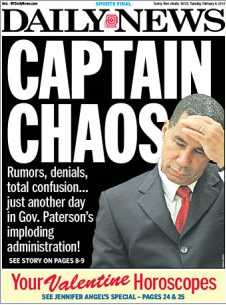 It looks like the long-rumored, much-chattered about New York Times 'bombshell' story about Gov. David Paterson — one that even had the Gov. doing the media rounds in defense of what may or may not being coming — may end not with a bang but a whimper.
In today's Times public editor Clark Hoyt confirms that the upcoming profile (no date given) "would not contain anything like the salacious rumors being circulated but demurred on the issue of doing anything to stop them." Great for Paterson. Sort of. But what about those pesky rumors? How did a perfectly reasonable "in-depth examination of his nearly two-year tenure" turn into this? The short answer appears to be: welcome to the Internet long-form journalism! From Hoyt:
The rumors about Paterson, who acknowledged past affairs shortly after taking office, were fanned by technology that allows everyone to be a publisher, spawning news and commentary sites with widely varying standards and such a hunger for material that just the fact that The Times is interviewing sources can become "news." [John] Koblin, the apparent catalyst, wrote like an astonished bystander last week about what he called the "fake-news cycle."

I asked [Bill] Keller why he did not [publicly address the rumors]. He said that addressing rumors just "spreads them and gives them an aura of credibility, even if the intent is the opposite. For The Times to issue a statement saying, 'We are not investigating rumors about the sex life or drug use or financial shenanigans of Public Figure X' doesn't clear the good name of Public Figure X. It simply announces that we've heard the rumors and for some reason chose not to look into them." It would be even worse, he said, if the paper said it was looking into rumors about Public Figure X. Keller added that the paper generally does not talk about what it is working on because news is a competitive business.

He said Paterson's adversaries "are doing their best to flush out any negative material we might be looking into, and, in the absence of that, they are letting innuendo do their dirty work for them. The governor and his supporters are trying to neutralize any negative material that may come out by portraying it in advance as an unsavory muckraking exercise. Gawker and the Drudge Report and The New York Post are wallowing in all of this because that's what they do."
"Wallowing" is a strange word to use to describe Gawker, who, it seems to me advanced a MSM story with sharp 2.0 means — it makes me wonder if Keller reads Gawker, actually. The New York Post, meanwhile, just did what the Post always does. Regardless, there is something rather comforting about the fact that the Times didn't succumb to the 2.0 newscycle in this instance — they are not a PR company. That said, anyone still skeptical about the power of Twitter to circulate information, news, and/or rumors (ahem, BriWi) need look no further for an example of where the new new journalism is heading.
Have a tip we should know? tips@mediaite.com