Twitter Destroys Matt Damon For Latest Comments on Sexual Harassment: 'SERIOUSLY?'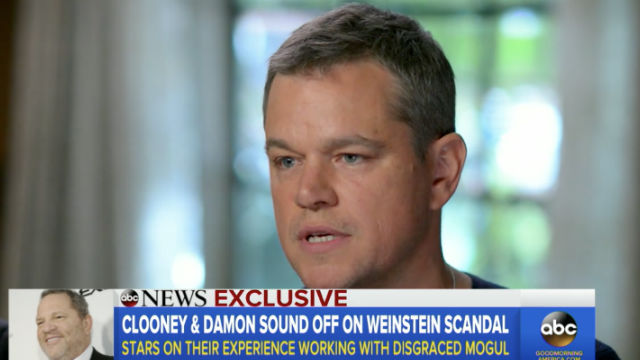 Matt Damon landed himself in hot water (again) over remarks he made regarding the systemic sexual harassment that has plagued Hollywood.
During an interview with Business Insider, Damon suggested that men who don't harass women should be praised more.
"We're in this watershed moment, and it's great, but I think one thing that's not being talked about is there are a whole sh*tload of guys — the preponderance of men I've worked with — who don't do this kind of thing and whose lives aren't going to be affected," Damon said.
When asked if he would ever work with someone accused of sexual misconduct, he said it would have to be on a "case-by-case basis."
"That always went into my thinking. I mean, I wouldn't want to work with somebody who ― life's too short for that," he elaborated. "But the question of if somebody had allegations against them, you know, it would be a case-by-case basis. You go, 'What's the story here?'
Last week, the actor drew criticism for saying that allegations made against Sen. Al Franken (D-MN) shouldn't be put in the "same category" as disgraced film mogul Harvey Weinstein.
"There's a difference between, you know, patting someone on the butt and rape or child molestation, right?" Damon said. "Both of those behaviors need to be confronted and eradicated, without question, but they shouldn't be conflated, right?"
Well, Twitter has had enough.
Someone who cares about Matt Damon should tell him to shut up.

— roxane gay (@rgay) December 19, 2017
Matt Damon is dense AF https://t.co/B9OKeh1WpG

— rose mcgowan (@rosemcgowan) December 18, 2017
Matt Damon = every white man who is used to people taking his opinion seriously even if he has no idea wtf he's talking about.

— Zerlina Maxwell (@ZerlinaMaxwell) December 18, 2017
Hi ladies, can we all just be quiet for second and stop chatting about our #metoo stories. Matt Damon wants us so to thank all the men who haven't assaulted us for not assaulting us. pic.twitter.com/wlN1SNsXQq

— Hanna Ines Flint (@HannaFlint) December 18, 2017
Matt Damon is the epitome of a faux ally whose performative wokeness is more about servicing his own ego than the needs of the oppressed & disenfranchised . https://t.co/KN2tF3AzGj

— Cher (@thecherness) December 18, 2017
imagine being Matt Damon and thinking "I should keep talking" https://t.co/lSEIyDsvE4

— Angie J. Han (@ajhan) December 18, 2017
someone should tell matt damon there's nothing remarkable about decency and basic respectful behavior, it doesn't merit a profile. shows how low the bar is for white cis bros.

— Molly Priddy (@mollypriddy) December 18, 2017
Matt Damon can't stop Matt Damonning all over the fucking place. https://t.co/ASYq0JRPn5

— Imani Gandy Canes (@AngryBlackLady) December 18, 2017
It's truly astonishing that at this moment in time, Matt Damon has managed to make himself intensely unlikable WITHOUT being accused of sexually assaulting anyone.

(So far.)

— Kate Harding (@KateHarding) December 19, 2017
The reason I'm not talking about "the good men" is because
A.) They are not victims in this
B.) If you are a good man, you don't seek accolades for not being a rapey bastard
C.) As Matt Damon exemplifies in terms of systemic misogyny "the good men" are often complicit

— Kim Sauder (@crippledscholar) December 18, 2017
Me: Oh my god, someone broke all of my dishes!
Matt Damon, crashing thru door: You should talk about people who don't break dishes.

— Jessica Ellis (@baddestmamajama) December 18, 2017
Matt Damon can't help himself…..He Keeps Talking……https://t.co/qKBYrvvXF4 pic.twitter.com/mrUGGaBixg

— Yashar Ali ? (@yashar) December 18, 2017
Matt Damon- SERIOUSLY? You are a smart man. A privileged, white man. This is NOT the time to ask for a pat on the back. How about we NOT celebrate men who are simply decent human beings. Stay on track, Matt. It's not about you. https://t.co/mmdbqAUyP7

— Debra Messing (@DebraMessing) December 18, 2017
Listen, if I wanted to hear Matt Damon's thoughts, I'd strike up a conversation with a drunk man loitering outside of a gas station

— Lauren Duca (@laurenduca) December 18, 2017
for real though, should have left matt damon on mars

— Tom Clift (@tom_clift) December 18, 2017
who is matt damon's publicist and when will a prince come and kiss her and wake her up from her sleeping spell? https://t.co/DJmYLTSwt1

— Taffy Akner (@taffyakner) December 19, 2017
(Matt Damon bursts into trial for serial killer)
"Why are we wasting time on this when we should be talking about all the men who AREN'T serial killers!"

— Jess Dweck (@TheDweck) December 19, 2017
Ben Affleck in every moment of life hoping no one asks him to comment on something Matt Damon has said pic.twitter.com/0Ee7p0zxng

— Ira Madison III (@ira) December 19, 2017
Idea: We actually shrink Matt Damon.

— Norm Kelly (@norm) December 19, 2017
dear Matt Damon pic.twitter.com/vgHlmhVPai

— shauna (@goldengateblond) December 18, 2017
When it comes to Matt Damon, I am constantly hunting for goodwill

— Aparna Nancherla (@aparnapkin) December 19, 2017
hey, matt damon, pic.twitter.com/67mN6WRxA4

— Dana Schwartz (@DanaSchwartzzz) December 19, 2017
Damon is in the midst of promoting his latest film Downsizing, which is being released this Christmas. Perhaps any press is good press?
Have a tip we should know? tips@mediaite.com