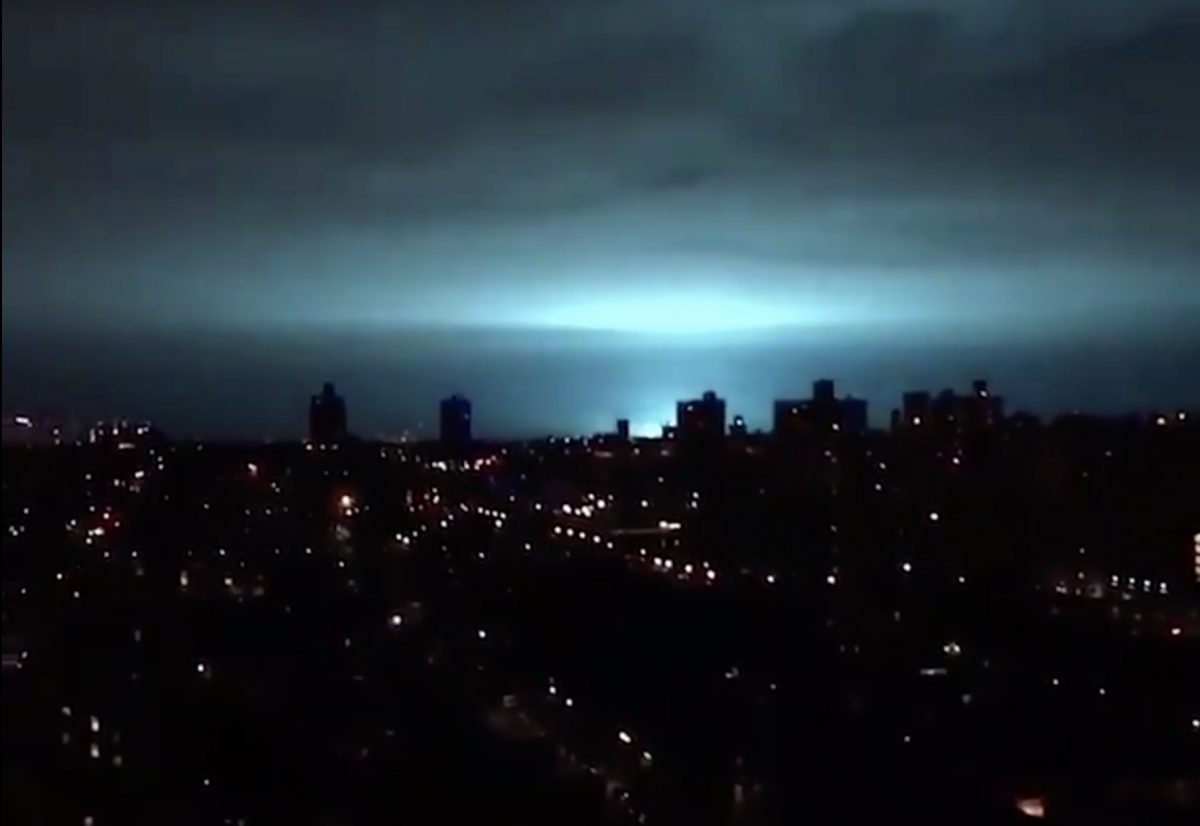 On Thursday night, an explosion rocked a Con Edison facility in Astoria, Queens. Lights flickered in the borough, the explosion could be seen lighting up the skyline and sky turned an eerie teal blue.
At LaGuardia Airport, there were reports of power outages and flights temporarily halted.
Thankfully, no one was hurt in the explosion and there was no resulting fire.
Yet, in the moments after the explosion, Twitter was freaking out over talk of Armaggedon and alien invasions.
Here is some of the dramatic footage posted by those nearby.
Um what is this? #queens #nyc pic.twitter.com/rt3yiOoyBz

— Tara A. Johnson (@tara_arianna) December 28, 2018
Power just flickered off and this is happening in Astoria… #queens #bluesky #explosion pic.twitter.com/9Bxk1NSc7v

— Chris Snyder (@tofer) December 28, 2018
What is happening in queens?!!!! It's humming and changing psychedelic colors… tons of sirens?!! pic.twitter.com/xkskHdzOxo

— Juju Chang (@JujuChangABC) December 28, 2018
This is crazy. Possible explosion in queens? Crazy. #NewYork pic.twitter.com/r6M1XlGgDs

— Tim Master (@TimMaster1605) December 28, 2018
New Yorkers also proceeded to have thoughts of what may have been up prompting the freakish pulsating skies.
Some thought it may be fireworks.
Why is the sky lit up bright blue in Queens New York City right now? Is it fireworks? #QueensNY #SkyIsBeamingBrightBlue pic.twitter.com/4IF53UUGGG

— Louis Santoro (@Louis_S_Santoro) December 28, 2018
Or possibly an alien invasion from aliens who may or may not have valued the bigger apartments the borough has to offer.
Anyone else see this alien invasion happening in Queens? #nyc #queens #lga #laguardia pic.twitter.com/Qjn8ra3Udr

— Keith Wan (@RealKeithWan) December 28, 2018
here's a second look with the Queens 7 train approaching and the brilliant blue sky lighting up overheard. went on for maybe 3 minutes total

alexa show me what the alien arrival looks like pic.twitter.com/NmZNXIybLD

— J.D. Durkin (@jiveDurkey) December 28, 2018
Queens is underrated and a great value and the aliens just wanted large apartments and tacos

— Josh Barro (@jbarro) December 28, 2018
NYC is so expensive when the aliens get here they just go straight to Queens

— Liam Stack (@liamstack) December 28, 2018
Power plant explosion in Queens in the last hour has lit the New York City skyline in blue. First mass reaction on social media was a UFO landing. Sidebar: NYC airports have halted traffic. pic.twitter.com/RHoepc2fdi

— Darren Rovell (@darrenrovell) December 28, 2018
Some even suggested it may be the end of the world.
if the world is ending, I want to be in Queens. #queensforever (Glad everyone is safe) https://t.co/UPc0GPpqfu

— WalterSmith-Randolph (@WalterReports) December 28, 2018
#NY1news saw the whole thing from my house in queens and thought it was the end of the world! pic.twitter.com/F063yZiAx7

— Orlando NYC (@OrlandoinNYC) December 28, 2018
Others thought Amazon might have something to do with it.
Jeff Bezos spotted in Queens with several senior Amazon executives pic.twitter.com/HraTNlRv2B

— Jon Levine (@LevineJonathan) December 28, 2018
It would be something if the bright blue light above Queens finally faded, and Amazon HQ2 was suddenly sitting there fully constructed.

— Jason Roeder (@jasonroeder) December 28, 2018
The NYPD eventually confirmed that there was no alien activity either in Queens or the Bronx and that the explosion was not the result of suspicious activity.
Confirming incident in #Astoria was result of transformer explosion. No injuries, no fire, no evidence of extraterrestrial activity. Please continue to follow @FDNY and @Conedison

— NYPD NEWS (@NYPDnews) December 28, 2018
We assure you ??? have not landed in the #Bronx. https://t.co/B23zHPut5M

— NYPD 43rd Precinct (@NYPD43Pct) December 28, 2018
Transformer explosion was determined to be a non-suspicious equipment malfunction. Please continue to avoid the area due to keep traffic clear. Thank you.

— NYPD 114th Precinct (@NYPD114Pct) December 28, 2018
New York City Mayor Bill de Blasio also tweeted out details of what happened to inform New Yorkers that there was no need to freak out over the unexpected light show in the Queens sky.
What we know:

– Light was caused by electrical surge at a substation.

– No current fire, no injuries.

– MTA has power, but there are delays on the 7 train.

– Power coming back on at LGA, but expect delays.

– Con Ed evaluating outages now.

More soon.

— Mayor Bill de Blasio (@NYCMayor) December 28, 2018
Have a tip we should know? [email protected]