Twitter Goes Nuts After Trump Retweets Pizzagate Conspiracist Jack Posobiec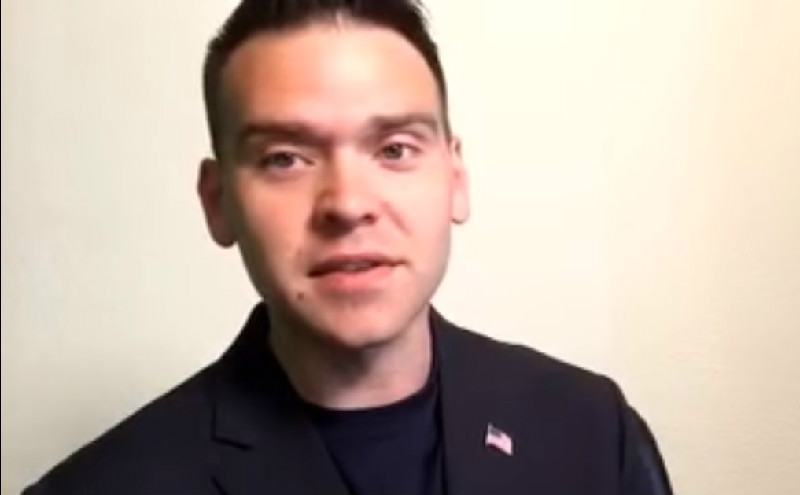 Twelve hours after he finally condemned white supremacists, neo-Nazis and the KKK over the violence in Charlottesville — two days after his much-criticized "many sides" statement — President Donald Trump took to Twitter to comment on his arrival at Trump Tower in New York.
Feels good to be home after seven months, but the White House is very special, there is no place like it… and the U.S. is really my home!

— Donald J. Trump (@realDonaldTrump) August 15, 2017
And, oh yeah, he retweeted an alt-right personality who pushed the Pizzagate conspiracy theory that accused Hillary Clinton loyalists of running a child sex ring out of a DC-area pizza shop.
Meanwhile: 39 shootings in Chicago this weekend, 9 deaths. No national media outrage. Why is that? https://t.co/9Crutnnrp8

— Jack Posobiec ?? (@JackPosobiec) August 14, 2017
Besides peddling crazed pedophile conspiracies, Posobiec has made a name for himself in recent months by protesting a controversial production of Julius Caesar in New York, helping to organize the alt-right's Deploraball inauguration party, and being uncovered as the one who brought a "Rape Melania" sign to a Trump protest.
Considering that the Charlottesville violence has been largely blamed on the alt-right and white nationalists, Trump's retweet of Posobiec definitely drew a lot of notice right away. Especially since it appears POTUS was amplifying Posobiec as a way to give himself cover on his Charlottesville responses.
POTUS retweeting one of the Pizzagate conspiracy theorists 2 say he's being treated unfairly in criticism of his response to Charlottesville

— Maggie Haberman (@maggieNYT) August 15, 2017
No better way for Trump to shake the perception that he's sympathetic to the alt-right than to RT a person closely aligned w/ the alt-right. pic.twitter.com/SJsg251C8a

— Josh Jordan (@NumbersMuncher) August 15, 2017
Richard Spencer said today he didn't think POTUS had condemned him or the alt-right in his comments. Tonight, the president RT's this guy: pic.twitter.com/8MWB9WYzkM

— Olivia Nuzzi (@Olivianuzzi) August 15, 2017
Politics is a tiny world. pic.twitter.com/27jD0d5ufW

— Matt Pearce (@mattdpearce) August 15, 2017
Trump retweeted Jack Posobiec tonight.
He was kicked out of Comet Pizza for "investigating" Pizzagate a month before it was shot up. pic.twitter.com/1lIFx472b7

— Ben Collins (@oneunderscore__) August 15, 2017
Fox & Friends in the AM, Jack Probiotics at night

— Gideon Resnick (@GideonResnick) August 15, 2017
This guy!!!

What the hell is wrong with you, @realDonaldTrump???? pic.twitter.com/TaOovl28O5

— The Reagan Battalion (@ReaganBattalion) August 15, 2017
The president is sitting up at home after 11, retweeting an alt-right conspiracy theorist defending his grudging condemnation of Nazis.

— Edward-Isaac Dovere (@IsaacDovere) August 15, 2017
FFS. @POTUS is literally RTing racist conspiracy theorists within 12 hours of his speech 'condemning' racism pic.twitter.com/28Kqida27m

— Jesse Lehrich (@JesseLehrich) August 15, 2017
Tonight, @POTUS retweeted a man who fabricated a campaign about raping the First Lady, as I reported in January https://t.co/7RVj6Rynt9

— Joe Bernstein (@Bernstein) August 15, 2017
Trump just retweeted a story from Jack Posobiec, an alt-right hero who tweets things like this: pic.twitter.com/68Gr5u2tb9

— Christina Wilkie (@christinawilkie) August 15, 2017
Oh christ Trump is RT'ing psychopath Jack Posobiec talking about Chicago to divert from domestic terrorism. Such a stupid point, too.

— Jeff B/DDHQ (@EsotericCD) August 15, 2017
However, there was at least one person — outside of Posobiec himself — who applauded Trump for the retweet:
Jack Posobiec organized the Rally Against Political Violence.

Trump's RT is powerful endorsement of peace.https://t.co/ueBr1tYquw

— Mike Cernovich ?? (@Cernovich) August 15, 2017
Following his comments on Monday where he said "racism is evil," the president took to Twitter to complain about the "Fake News Media" and how they're never satisfied with his responses, labeling the press "very bad people."
[image via screengrab]
—
Follow Justin Baragona on Twitter: @justinbaragona
Have a tip we should know? tips@mediaite.com