Twitter Laughs After Newt Gingrich Butchers the Hell Out of His Praise for 'Presideent Trtump'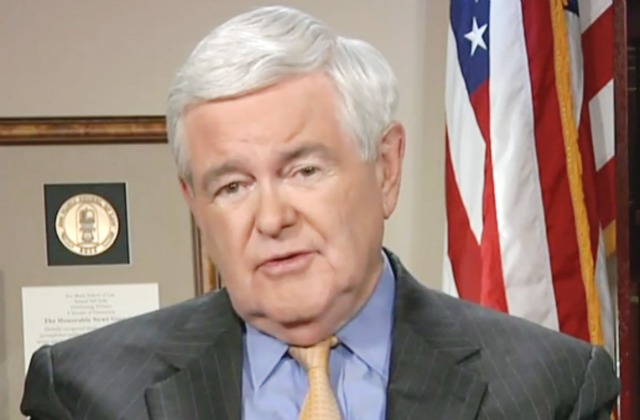 Either Newt Gingrich is hitting the sauce early today, or he really messed up when he got on Twitter to praise President Donald Trump for his latest public remarks.
Gingrich speaks positively about the president on a regular basis, so it might not come as a surprise that he had a satisfied reaction to Trump's joint press conference with Mitch McConnell. The greater surprise is that the former House Speaker put out a tweet so horrendously misspelled, a third of it is almost illegible: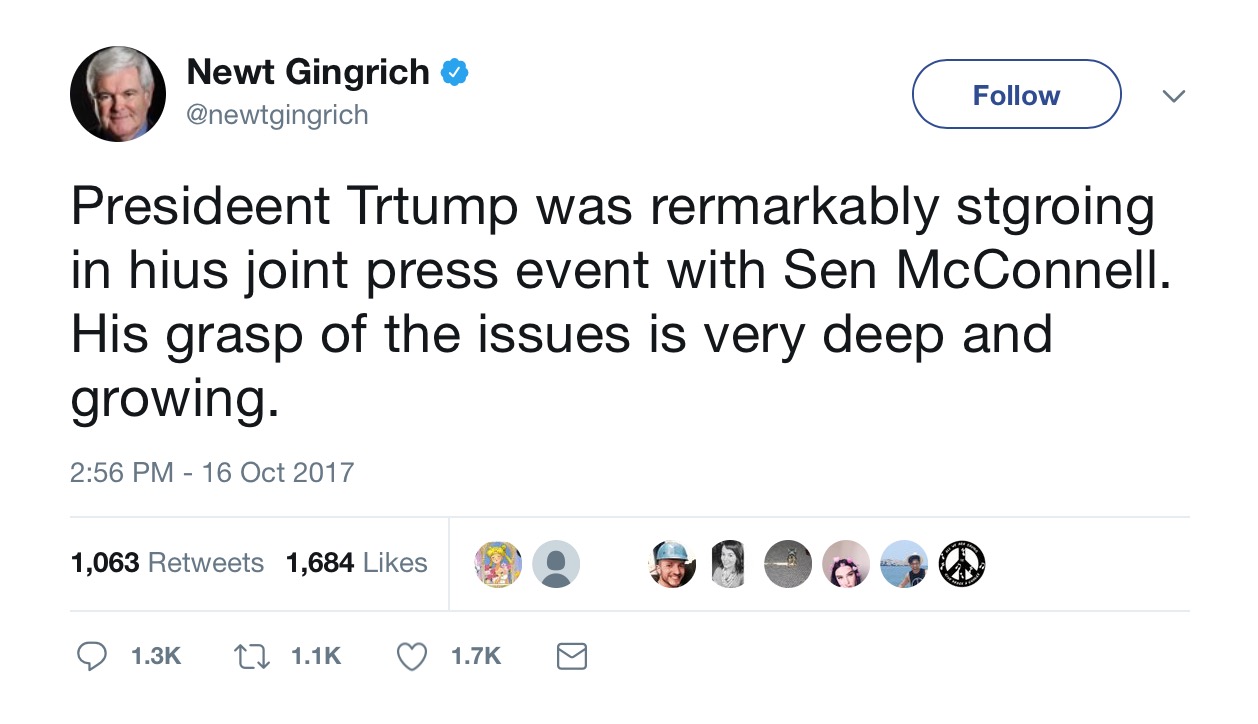 Twitter mockery: GO!
Newt is Dutch now https://t.co/spUGsVh9d3

— Blake Hounshell (@blakehounshell) October 16, 2017
Friend: Are you still at the bar?

— Erielle Davidson (@politicalelle) October 16, 2017
hius so stgroing and groining stgroinger every daay pic.twitter.com/5vDM4X5ck8

— Andy Baio (@waxpancake) October 16, 2017
Somebody go check on Newt https://t.co/apupx7Kbdd

— Sam Sanders (@samsanders) October 16, 2017
There is a coded message here. I just know it. https://t.co/51z8k1lOwo

— Brandon Morse (@TheBrandonMorse) October 16, 2017
BREAKING: Gingrich says "Presideent" Trump was "rermarkable"; highlights how he puts the "groin" in strong; claims "hius" grasp is growing. https://t.co/4UXZSdzVzx

— Brian Klaas (@brianklaas) October 16, 2017
Newt Gingrich has clearly given up on life. https://t.co/jQSZDGxhDQ

— Palmer Report (@PalmerReport) October 16, 2017
Bruh, only way to tackle Monday is a 2pm happy hour https://t.co/Dn5qzZrVXu

— Comfortably Smug (@ComfortablySmug) October 16, 2017
⁉️WHAT⁉️

Newt Gingrich tweets gibberish about Trump's gibberish.?

YO NEWT, try laying off the sauce, at least until Happy Hour at 5pm‼️??? pic.twitter.com/lyaTM9fgop

— Dr. Dena Grayson (@DrDenaGrayson) October 16, 2017
Gingrich has deleted his original tweet and is now trying again:
Starting with better typing—

— Newt Gingrich (@newtgingrich) October 16, 2017
.@potus was remarkably strong in his joint press event with Sen. McConnell. His grasp of the issues is very deep and growing.

— Newt Gingrich (@newtgingrich) October 16, 2017
[Image via screengrab]
— —
>> Follow Ken Meyer (@KenMeyer91) on Twitter
Have a tip we should know? tips@mediaite.com