Twitter Mocks Jacob Wohl's Weird Press Conference Outside of CPAC: 'I Can't Stop Laughing At This'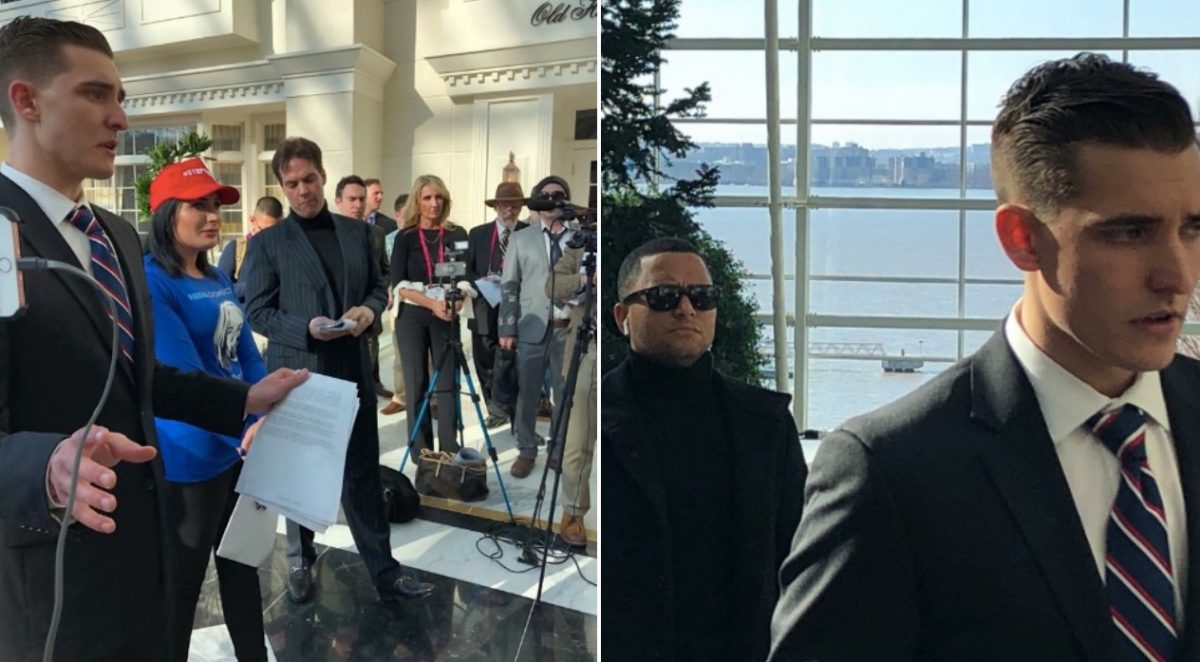 Fresh off of his ban from Twitter, Jacob Wohl — joined by Jack Burkman and Laura Loomer — held a press conference in what could only be described as the sunniest and hottest spot possible in the lobby of the Gaylord National Resort.
Their presser was about the evidence to support the unproven claim that Rep. Ilhan Omar (D-MN) "married" her brother to defraud the government.
The press conference, held by conspiracy theorists, went as well one would expect:
jacob wohl is giving his cpac presser while flanked by a tiny security guard with a single airpod in his ear pic.twitter.com/tGt4vjI6oh

— Caleb Ecarma (@calebecarma) February 28, 2019
People at the Jacob Wohl and Laura Loomer press conference are laughing at them.

— Stephanie Mencimer (@smencimer) February 28, 2019
Just lost a half-hour at #cpac attending a press briefing by Jacob Wohl to present an investigative report that was distributed to attending media and carrying this warning: "Privileged and Strictly Confidential." So I can't say what it says.

— ErikWemple (@ErikWemple) February 28, 2019
If Jacob Wohl's report is confidential why did he just hand it to me? #CPAC pic.twitter.com/yjvxNL9wKk

— Molly Jong-Fast (@MollyJongFast) February 28, 2019
here's some premium content from the Jacob Wohl press conference pic.twitter.com/R1boF4Jcul

— Alex Thomas (@AlexThomasDC) February 28, 2019
Siri, show me the definitive image of our political moment. https://t.co/rXdid9iya8

— Sonny Bunch (@SonnyBunch) February 28, 2019
i can't stop laughing at this https://t.co/An9IiEuoqN

— siraj hashmi (@SirajAHashmi) February 28, 2019
All these people are larpers. He needs a tin badge that says 'U.S. Official' https://t.co/2tLsy5uM4u

— h. jon benjamin (@HJBenjamin) February 28, 2019
And that's it! Jacob Wohl's press conference fizzles out amid questions about the FBI investigation into their last stunt. pic.twitter.com/0LnhuXZG6U

— Will Sommer (@willsommer) February 28, 2019
When people tried to ask about his unfounded accusations of sexual misconduct by Robert Mueller, Wohl said he wouldn't be answering questions about that said he was only going to answer questions about Omar.
In addition to the allegations, Loomer also called for Twitter to reinstate their Twitter accounts and praised how viral she went after she handcuffed herself at Twitter's headquarters in New York City, noting she didn't even have an account at that point.
[Images via Will Sommer/Caleb Ecarma]
Have a tip we should know? tips@mediaite.com