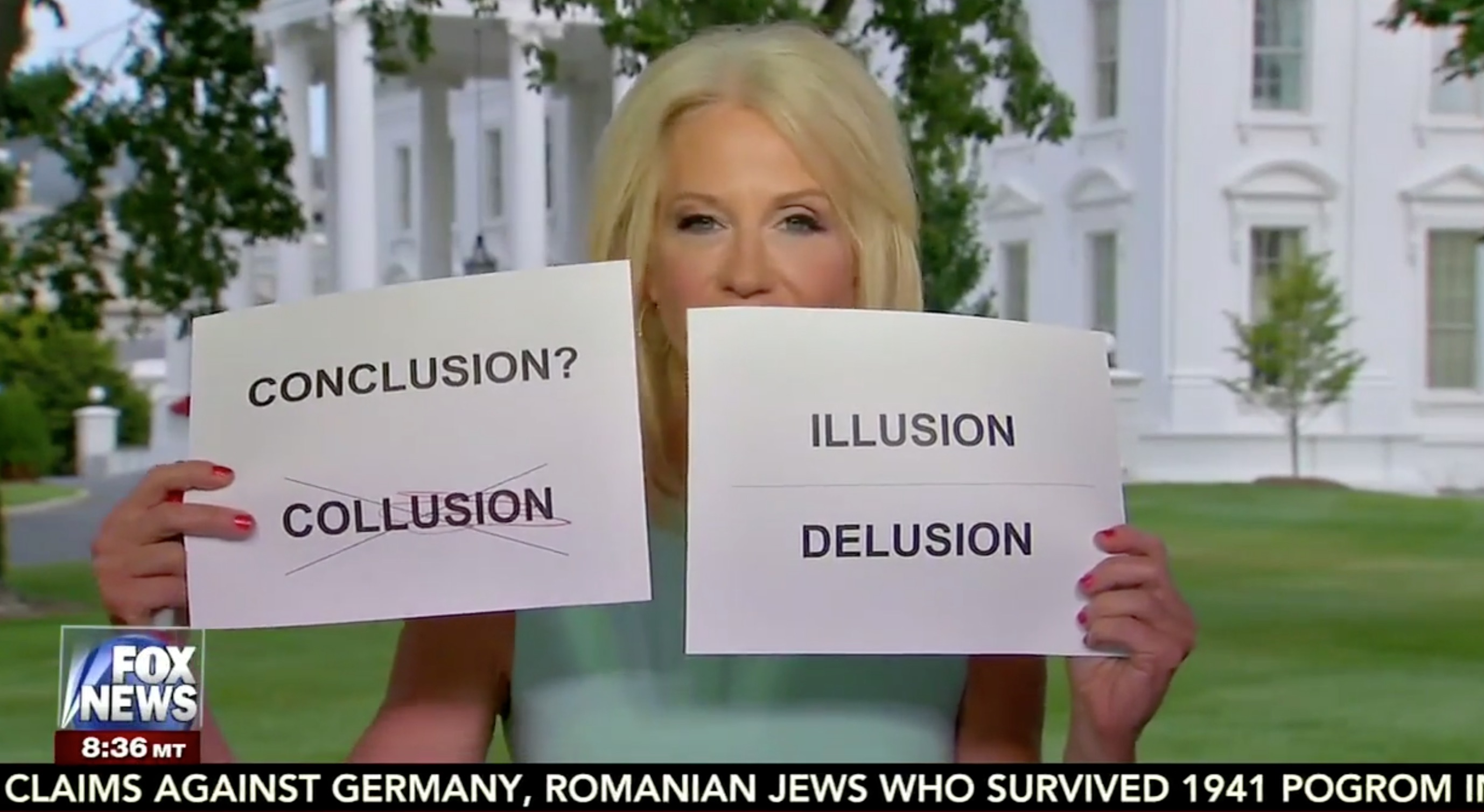 On Wednesday night, Kellyanne Conway used visual aids on Fox News to challenge the Russia collusion narrative.
While she told Sean Hannity that she wanted to "have fun with words," Twitter had some fun at her expense.
This just happened on Hannity….. pic.twitter.com/nOYn7Th2aL

— Yashar Ali (@yashar) July 13, 2017
"Conclusion? … Collusion … Illusion … Delusion" … a meme is born pic.twitter.com/UK9fkvIlhH

— Bradd Jaffy (@BraddJaffy) July 13, 2017
Confusion https://t.co/ZYV1SOwvp7

— Ben Shapiro (@benshapiro) July 13, 2017
Why does Kellyanne Conway with her flash cards on Fox News seem so familiar? Can't quite put my finger on it, give me a minute… pic.twitter.com/XjdiU0k3rj

— Maxime Bourdeau (@MaximeBourdeau) July 13, 2017
"'Collusion' — no, we don't have that yet." — Kellyanne Conway. I found the "yet" to be telling https://t.co/ELnbIe6lrb

— Jeet Heer (@HeerJeet) July 13, 2017
Kellyanne Conway just held up 2 pieces of paper that say "Conclusion?" "Collusion." "Illusion Delusion" on live TV. @seanhannity pic.twitter.com/51jknKWK3m

— Christina Wilkie (@christinawilkie) July 13, 2017
Conclusion? @KellyannePolls knows how to use a rhyming dictionary. Also, she has yet to master the concept of tragic irony. https://t.co/rhucD04XT1

— Beau Willimon (@BeauWillimon) July 13, 2017
Hannity on the other side while Kellyanne holds up her paper: pic.twitter.com/b64GFycwyL

— Sopan Deb (@SopanDeb) July 13, 2017
People have already made a meme out her flashcards.
— Sarah McLaughlin (@sarahemclaugh) July 13, 2017
I think Kellyanne Conway is trying to tell us something. pic.twitter.com/u4ydrOdFcz

— Florida Man (@_FloridaMan) July 13, 2017
I'm just glad you're honest. pic.twitter.com/9P9jLBv5mA

— Parker ? (@realParker9) July 13, 2017
— Parker ? (@realParker9) July 13, 2017
— Political Capital (@PoliticalCaptl) July 13, 2017
— Jen Atkins (@Jennifer_Jayde) July 13, 2017
Kellyanne Conway reacted to the reaction and tweeted "Apologies to the humorless."
Apologies to the humorless. Kellyanne Conway Uses Visual Aids to Challenge Russia Collusion Narrative | Mediaite https://t.co/BPSTceybxS

— Kellyanne Conway (@KellyannePolls) July 13, 2017
Have a tip we should know? tips@mediaite.com