Twitter Points and Laughs at Chris Christie After NJ Gov Screams In Man's Face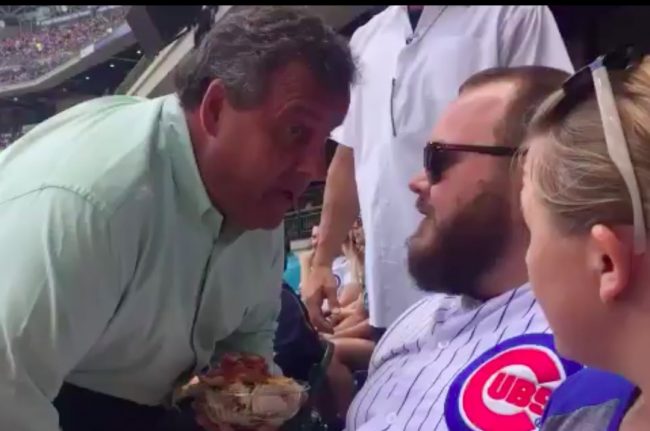 At this point, it's almost not news when video or photos emerge of Chris Christie screaming at somebody or just waddling around in a huff.
If you missed it yesterday, the latest Christie blow up took place at a baseball game, where the governor was filmed getting right up in a heckler's face — while holding a large bowl of nachos.
At #Cubs #Brewers game. #ChrisChristie was getting razzed by fans, so he got in the face of one of them. 5:30 on @WISN12News pic.twitter.com/sx8euMgFy2

— Ben Hutchison (@BennyHutch) July 30, 2017
The up close face time between the Governor of New Jersey and a random Cubs fan swiftly drew — much deserved —  mockery from all corners of the Internet.
But it was that nacho bit that really put people over the top. — The commentariat were merciless!
Chris Christie telling off a Cubs fan while cradling his nachos is glorious. https://t.co/5f7LSN5K0d

— Zach Braff (@zachbraff) July 31, 2017
I wish someone would hold me like Chris Christie holds his nachos. pic.twitter.com/iTyvh4wydV

— Sam Roberts (@notsam) July 31, 2017
Rule Number 1 – Don't talk shit to Chris Christie when he hasn't had a single one of his nachos yet pic.twitter.com/MjK7j6UpF7

— Big Cat (@BarstoolBigCat) July 30, 2017
Chris Christie got face-to-face with a Cubs fan today. He also got butt-to-face with 3 other rows at the same time. https://t.co/vS6KZAy9Mp

— Tea Pain (@TeaPainUSA) July 31, 2017
And don't ever again question Chris Christie's humanity after seeing him cradle those nachos like a mother primate cradling its young.

— John Fugelsang (@JohnFugelsang) July 31, 2017
In 2014, Chris Christie's nacho game was basic, uninspired.

In 2017, CC's nacho game is lit. Look at those toppings. pic.twitter.com/MwNDemDNCr

— Brooke Rogers (@bkerogers) July 31, 2017
There is nothing less intimidating than Chris Christie saying "you're a big shot" with a tub of nachos and pants pulled up to his chest pic.twitter.com/dhIK1w63YW

— Matt Marohl (@mattmarohl) July 31, 2017
Chris Christie is going after this Cubs fan while keeping an absolutely textbook cradle hold on the nachos. Masterpiece! pic.twitter.com/gDVlxsse3P

— Josh Jordan (@NumbersMuncher) July 31, 2017
Chris Christie's pants are higher than his approval rating.

— Nick Jack Pappas (@Pappiness) July 31, 2017
Have a tip we should know? [email protected]