Twitter Slams The Emoji Movie For 'Tasteless' Post Spoofing The Handmaid's Tale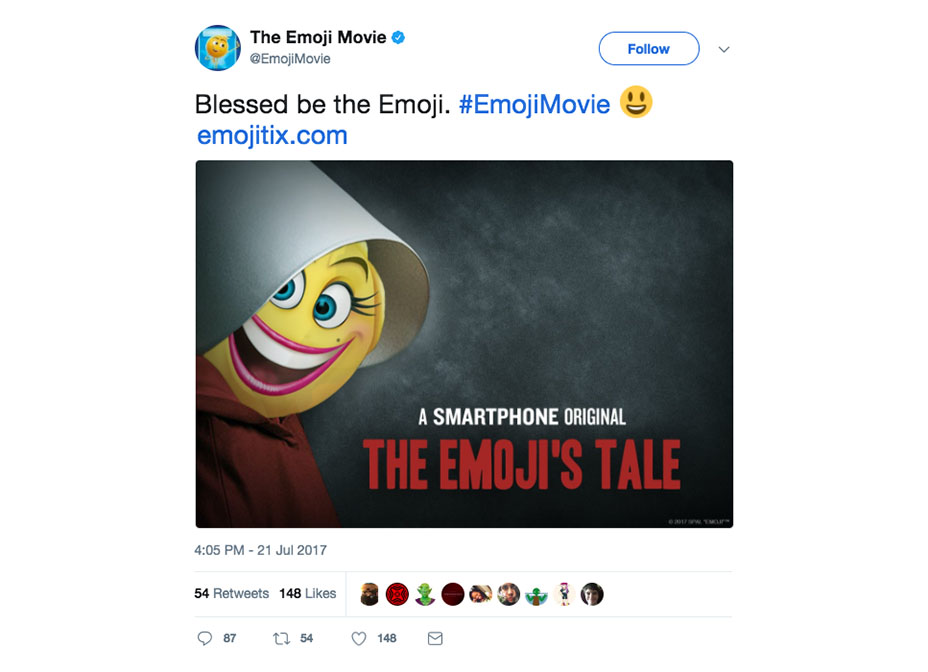 The Emoji Movie is under fire for tweeting a parody of Hulu's hit drama The Handmaid's Tale.
On Friday, The Emoji Movie Twitter account sent out an ad featuring an emoji in the now-iconic red handmaid robe with the text: "A Smartphone Original: The Emoji's Tale." The image was captioned  with "Blessed be the Emoji" in the tweet.
The Handmaid's Tale, based on the Margaret Atwood novel, is about young women are forced by the government to procreate for wealthy families in a futuristic totalitarian society.
The tweet promoting the yet-to-be-released Emoji Movie has since been deleted, but not before it sparked outrage from Handmaid's Tale fans and others.
Don't think the team from @EmojiMovie have ever read @MargaretAtwood. https://t.co/eXrA993le8

— Luke Robert Mason (@LukeRobertMason) July 24, 2017
Whoops. The Emoji Movie deleted their shitty ad. That was quick.

— Sam Sykes (@SamSykesSwears) July 24, 2017
Looks like they deleted it, but the internet is FOREVER @EmojiMovie pic.twitter.com/mWC34kD6Nm

— Beth Elderkin (@BethElderkin) July 25, 2017
Delete your account.

— BCC (@ByCommonConsent) July 24, 2017
Do scheindlers list next

— Jeremy M (@thismyshow) July 24, 2017
Do TRIUMPH OF THE WILL next.

— Christopher Sebela (@xtop) July 24, 2017
Why has everyone in my timeline suddenly found an awful Emoji Movie tweet that's two days old?

— Guy Lodge (@GuyLodge) July 24, 2017
Don't do this. https://t.co/V0Jb5QofMB

— Jill Pantozzi ♿ (@JillPantozzi) July 24, 2017
Have a tip we should know? [email protected]