TX Police Rip 'Unethical' TV Station For Posting Video of Suspect Being Killed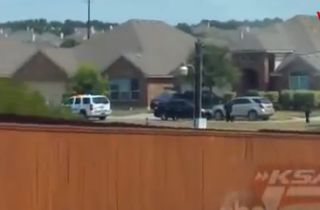 Yesterday, KSAT aired a report from San Antonio, Texas about a man who was shot dead by cops after appearing to surrender to them. It was only hours later that the local police encouraged the community to express their outrage towards… the media.
The police were called to Gilbert Flores' home over reports of domestic violence, and he appeared to raise his hands as he was approached outside his home. KSAT acquired their footage from a neighbor who shot the arrest attempt on his cell phone, and the network used it up until the fatal moment in their TV report.
However, the Bexar County Sheriff's Department became angered with the network when they found that they posted Michael Thomas' unedited video on their website, including the moment Flores was shot. Responding officers Greg Vasquez and Robert Sanchez were reportedly placed on paid administrative leave, but the department took to social media to blast KSAT, saying their "unethical" and "sad" resulted in community outrage:
Broadcasting a man's death for $100 has sparked threats to our deputies' lives. Let KSAT know what you think, 210-351-1269.

— Bexar County Sheriff (@BexarCoSheriff) August 31, 2015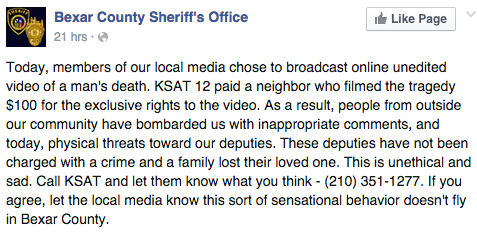 KSAT defended their use of the video, posting on their site that "providing the video on KSAT.com allows for viewers to make their own decision on whether to click on a link to see the video."
Sheriff Susan Pamerleau later held a press conference saying that the officers previously tried to use non-lethal weapons to subdue Flores before shooting him. She went on to say that the video content poses some causes of concern, but called for the investigation to be carried out on its own course
You can watch the TV report here:
[image via screengrab]
Have a tip we should know? [email protected]