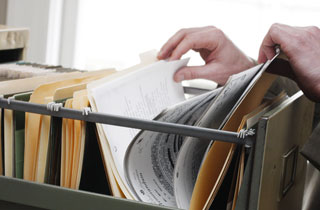 Tap into your inner American jingoist id and break out your "We're Number One" t-shirt, because America just set a new record… in censoring and denying Freedom of Information Act requests! WOOOOOOOOOOO!
The AP reported that in the past year, 714,231 FOIA requests were filed by citizens, journalists, and interest groups. Out of these, the government responded to 647,142 requests, but censored or outright denied 250,581 requests — 39% of all the requests in total.
Moreover, "on 215,584 other occasions, the government said it couldn't find records, a person refused to pay for copies or the government determined the request to be unreasonable or improper" — i.e., the government equivalent of stonewalling. And roughly one-third of the time, the administration would reverse their decisions when people appealed — "the highest reversal rate in at least five years."
While the government spent $434 million this year to keep up with the record number of requests, they also spent $23 million "on lawyers' fees to keep records secret," while firing 9% of the staff hired to look for government records.
And according to the AP's own experience, this is a disturbing trend:
The AP's chief executive, Gary Pruitt, said the news organization filed hundreds of requests for government files. Records the AP obtained revealed police efforts to restrict airspace to keep away news helicopters during violent street protests in Ferguson, Missouri. In another case, the records showed Veterans Affairs doctors concluding that a gunman who later killed 12 people had no mental health issues despite serious problems and encounters with police during the same period. They also showed the FBI pressuring local police agencies to keep details secret about a telephone surveillance device called Stingray.

"What we discovered reaffirmed what we have seen all too frequently in recent years," Pruitt wrote in a column published this week. "The systems created to give citizens information about their government are badly broken and getting worse all the time."
Or! America is improving its ability to tell nosy journalists to bug off! Positivity, guys.
[h/t AOL.com]
[Image via Shutterstock]
—
>> Follow Tina Nguyen (@Tina_Nguyen) on Twitter
Have a tip we should know? tips@mediaite.com