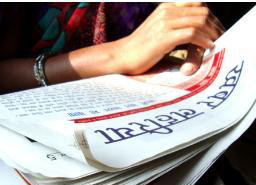 Undercovered is our daily feature bringing attention to women's issues worldwide, which we feel deserve a larger. 
—
A recent report in The Guardian takes readers inside India's first newspaper entirely staffed by women: a small, local publication called Khabar Lahariya (News Waves), which mainly employs women from low-caste, rural backgrounds.
Vidhi Doshi, reporting from Mumbai, describes the paper's recent expansion into digital content.
The paper covers local and rural issues in Uttar Pradesh, Madhya Pradesh and Bihar, Indian states with strong patriarchal attitudes to women's rights. When [chief reporter] Meera started, the paper was printed fortnightly, and hand-delivered by the reporters who were out in the villages gathering stories. Now, it is making its first forays in digital publishing and trying to make money through advertising, rather than relying on donations from NGOs.

As smartphones and internet use increase in India's villages, Khabar Lahariya has adopted a digital-first strategy. Reporters are filing video reports, and instant updates on WhatsApp and Facebook, to reach new audiences. They have been trained and given smartphones so they can film, take pictures and send updates on developing stories instantly. Between April and June, the website received more than 700,000 hits, while the now-weekly print paper has a loyal readership of more than 50,000.
You can read the full report here.
—
[image via Twitter]
Undercovered is a daily feature from Mediaite, bringing attention to stories about women's issues that warrant more attention. Go through the Undercovered archives here. If you have an idea or a tip, please email us at Undercovered@mediaite.com
Have a tip we should know? tips@mediaite.com