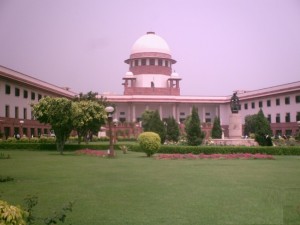 Undercovered is our daily feature bringing attention to excellent reporting on women's issues worldwide, which we feel deserves a larger audience.
—
In a significant break from tradition, Muslim women in India are training to be qazis, or judges, thanks to the efforts of an women's rights organization.
Rina Chandran, writing for the Thomson Reuters Foundation, reports:
The Bharatiya Muslim Mahila Andolan (BMMA) is training its first intake of 30 women in Quranic law, constitutional law and gender rights. The yearlong program aims to produce a steady stream of female qazis across India, its co-founder said.

The Indian constitution allows Muslims, the country's biggest religious minority, to regulate matters such as marriage, divorce and inheritance through their own civil code.

The qazi, usually a hereditary title, plays an important role by solemnizing marriage and finalizing divorce and settlements.
"But it's important to have women hear and represent women who are in a vulnerable position. Besides, there is no bar on women qazis as per the Quran," Zakia Soman, a co-founder of BMMA in Mumbai said.
In fact the highest court in India is due to hear arguments on whether or not certain Muslim customs pertaining to divorce violate women's rights.
You can read the complete report here.
—
Undercovered is a daily feature from Mediaite, bringing attention to stories about women's rights that warrant more attention. Go through the Undercovered archives here. If you have an idea or a tip, please email us at Undercovered@mediaite.com
[photo: Legaleagle86 via Wikicommons]
Have a tip we should know? tips@mediaite.com