Unknown Feminist Blogger Amy Glass Amazingly Trolls Entire World with Anti-Mom Screed
Unknown Feminist Blogger Trolls Entire World with Anti-Mom Screed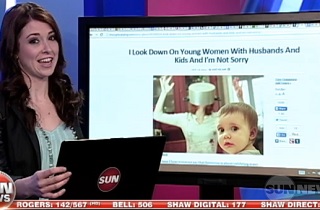 Andy Warhol would be so proud of Amy Glass. The blogger-turned-vessel-of-hatred penned a quick, vitriolic screed two weeks ago, entitled "I Look Down On Young Women With Husbands And Kids And I'm Not Sorry," which caught fire on the internet, spawned countless bitterly parodic responses, made its way all the way onto international cable news this past weekend, and has now even managed to clutter up the Twitter timeline of Canadian freelancer and Calgary Herald editor Amy Louise Glass.
It all started with a blog post, at the Brooklyn-based Thought Catalog blog, that reads like it was written by a cross between the Sigourney Weaver character from Working Girl and Cruella de Vil, halfway through her first cup of coffee. A taste:
Every time I hear someone say that feminism is about validating every choice a woman makes I have to fight back vomit.

We have baby showers and wedding parties as if it's a huge accomplishment and cause for celebration to be able to get knocked up or find someone to walk down the aisle with. These aren't accomplishments, they are actually super easy tasks, literally anyone can do them.

(W)omen secretly like to talk about how hard managing a household is so they don't have to explain their lack of real accomplishments.
You get the idea. Outrage over Glass' post grew for nearly two weeks, helped along by conservative Twitter thought catalog Twitchy, made it into heavy rotation on Fox & Friends this past weekend, onto the F&F mothership on Monday and Tuesday, and even made national news in Canada, where they are adorably still amused by the term "feminazi":
Glass emailed a statement to Fox & Friends, but she hasn't turned up in any verifiable form as yet. For all anyone knows, she could be a cousin of Marcia Brady paramour George Glass, or even George himself. The whole kerfuffle has even caused freelance writer and Calgary Herald copy editor Amy Louise Glass to update her Twitter bio to read "Not the Amy Glass who blogs for Thought Catalog."
The odd thing, though, is the conservative reaction to Glass, whose handful of blog posts are relentless criticisms of feminism, and which generally adhere to the popular conservative complaint that if everyone is special, no one is special. Glass even elaborates on that merit-based theme in her followup post, and perfectly crystallizes the argument in the headline to another piece entitled "Hillary Clinton Has Given Just As Much To This World As The Stay At Home Wife In My 11am Yogalates Class."
Whoever she(?) is, Glass has caused a major stir with a minimal amount of effort, and managed to become the convenient vessel for conservative rage at a brand of feminism that exists only in Amy Glass' virtual mind. The circumstances of stay-at-home motherhood, as even the vitriolic responses to Glass demonstrate, have more to do with privilege than merit. We would all prefer a world in which every mother, or father, had the luxury to decide whether to stay at home with their kids.
(h/t Donna Howe)
Have a tip we should know? tips@mediaite.com