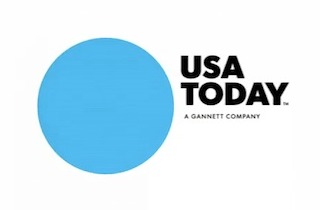 This week USA Today ran a column by Anjem Choudary, a radical Muslim cleric who believes freedom of speech doesn't extend to insulting Mohammed and spoke of the "consequences" of the Charlie Hebdo cartoons. The paper is defending the decision to run that column.
Choudary tweeted quite a bit about insults to the Muslim religion that should be censored or punished, and in his USA Today column, Choudary asks why the French government allowed Charlie Hebdo to run cartoons mocking Mohammed in such a vile way when something like the tragic killing this week could have happened.
A lot of people, of course, questioned why on earth USA Today would give column space to such victim-blaming. Editorial page editor Brian Gallagher explained the rationale in another column today.
RELATED: Anjem Choudary Asks NewsmaxTV Host 'Are You Jewish?' in Heated Confrontation
He acknowledged Choudary is not an "appealing figure," given his views on 9/11, but he argues there's more of a "tempered analysis" of the Charlie Hebdo attacks than you might think:
His argument is neither an incitement to violence nor a defense of the murders. Both of those would have been unacceptable. Rather, it is a tempered analysis of the motivations behind tragedies like the Charlie Hebdo attack: Nothing is more central to Islam, he points out, than the sanctity of the religion's founder, the prophet Mohammed. So Muslims, passionate in their faith, are duty-bound to reject Western standards of free speech that tolerate blasphemy to the prophet.
He ultimately concludes that it was in service of the memory of those killed that they would allow, on full display, a column from someone who would seek to provide some level of justification to the terrorists' anger.
[image via screengrab]
— —
>> Follow Josh Feldman on Twitter: @feldmaniac
Have a tip we should know? tips@mediaite.com
Josh Feldman - Senior Editor