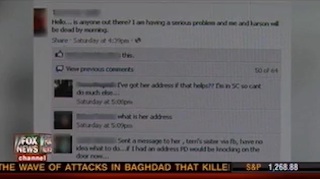 It usually seems whenever we hear a discussion of social media on the news, it's always something bad; cyber bullies, identity theft, and so forth. However, a story in Utah from this past weekend shows how one woman used social networking, Facebook in this case, to save the lives of she and her 17-month-old son. The two of them had been held hostage for five days and were only able to get rescue after the woman managed to send a quick distress call out as a status update.
For five whole days, Troy Reed Critchfield, a former friend who had previously plead guilty for aggravated assault against this same woman, held the woman and her son hostage in her home. He took away her phone and beat her any time she tried to leave. Fortunately, she was able to sneak a laptop into a closet and had just enough time to send out the following message.
"Hello…is anybody out there? I am having a serious problem and me and karson will be dead by morning."
The woman's Facebook friends quickly responded to see what was wrong and, after getting no further communication from the woman, they called the police. Officers soon appeared at the house where Critchfield appeared hesitant to let them in. After she was separated from the man, the woman was able to tell the police of the horrifying ordeal of physical and sexual assaults she had been subjected to and Critchfield was arrested.
We can all complain about how annoying and stressful this new world of constant connectivity may be. However, it's stories like this that remind us what a blessing it is to be able to communicate with the world instantly.
Watch a video report of the story from local affiliate KSTO via Fox News below:
Have a tip we should know? tips@mediaite.com