WSJ Uncovers 2006 Newsletter That Shows Newt Gingrich A Romneycare Super-Fan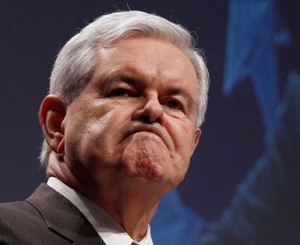 Unlikely GOP presidential contender Newt Gingrich has tried to explain away the fact that he practically invented the health insurance mandate as a practical response to the evil Hillary Clinton push for universal health care in the early 90s, but The Wall Street Journal has uncovered a 2006 newsletter that vaporizes that claim. The April 2006 edition of the Center for Health Transformation's "Newt Notes," which the Gingrich campaign says their candidate didn't write (so who did write it? The little girl from Aliens?), reveals that Gingrich (or someone who ghosted the newsletter for his think-tank) is the health insurance mandate equivalent of the guy who shows up two days early for Star Wars tickets dressed in a homemade steampunk Boba Fett costume, and speaks fluent Huttese to local TV news reporters.
The Gingrich campaign, in addition to claiming that Newt Notes weren't written by (their) Newt (hmmm, sounds familiar), defended the newsletter's praise of Romneycare by pointing out that it was also critical of the measure, but that criticism was really not about the mandate. Their biggest problem with it was that it prevented insurers from profiting off of poorer customers by selling them junk insurance that doesn't cover anything, but satisfies the mandate requirement.
What's really embarrassing about this, though, is the fact that the Newt Note contains a quote that's nearly identical to one that the Gingrich campaign tries to hang Mitt Romney with in an oppo memo that was just released last night. "Everybody in our state has to have health insurance. We`re not going to have free riders…And that's a model which I think has some merit more generally," the memo quotes Romney, from a June 2006 interview with PBS. Now, it looks like Romney may have, in fact, been quoting Gingrich (or some other Newt). Here's the portion of the newsletter that relates to Romneycare:(emphasis mine)
Newt Notes

The most exciting development of the past few weeks is what has been happening up in Massachusetts. The health bill that Governor Romney signed into law this month has tremendous potential to effect major change in the American health system.

We agree entirely with Governor Romney and Massachusetts legislators that our goal should be 100% insurance coverage for all Americans. Individuals without coverage often do not receive quality medical attention on par with those who do have insurance. We also believe strongly that personal responsibility is vital to creating a 21st Century Intelligent Health System. Individuals who can afford to purchase health insurance and simply choose not to place an unnecessary burden on a system that is on the verge of collapse; these free-riders undermine the entire health system by placing the onus of responsibility on taxpayers.

The Romney plan attempts to bring everyone into the system. The individual mandate requires those who earn enough to afford insurance to purchase coverage, and subsidies will be made available to those individuals who cannot afford insurance on their own. We agree strongly with this principle, but the details are crucial when it comes to the structure of this plan. Under the new bill, Massachusetts residents earning more than 300% of the federal poverty level (approximately $30,000 for an individual) will not be eligible for any subsidies. State House officials had originally promised that there would be new plans available at about $200 a month, but industry experts are now predicting that the cheapest plan will likely cost at least $325 a month. This estimate totals about $4000 per year, or about 1/5 of a $30,000 annual take-home income.

While in theory the plan should be affordable if the whole state contributes to the cost, the reality is that Massachusetts has an exhaustive list of health coverage regulations prohibiting insurers from offering more basic, pared-down policies with higher deductibles. (This is yet another reminder that America must establish a cross-state insurance market that gives individuals the freedom to shop for insurance plans in states other than their own.)

In our estimation, Massachusetts residents earning little more than $30,000 a year are in jeopardy of being priced out of the system. In the event that this occurs, Governor Romney will be in grave danger of repeating the mistakes of his predecessor, Mike Dukakis, whose 1988 health plan was hailed as a save-all but eventually collapsed when poorly-devised payment structures created a malaise of unfulfilled promises. We propose that a more realistic approach might be to limit the mandate to those individuals earning upwards of $54,000 per year.

While the Commonwealth's plan will naturally endure tremendous scrutiny from those who assert that the law will not work as intended, Massachusetts leaders are to be commended for this bipartisan proposal to tackle the enormous challenge of finding real solutions for creating a sustainable health system. I hope that Massachusetts' initiative to provide affordable, quality health insurance for all continues to ignite even more debate around the subject of how to best address our nation's uninsured crisis and the critical problems within the health system at large.
Just to be clear: the problem Gingrich has with Romney's plan is not the mandate, but rather, the cutoff for exemption from it, and even that objection stems only from the fact that state regulations prevent insurers from selling junk insurance to satisfy the mandate. The Gingrich campaign is spinning the newsletter as a critique of Romneycare, but that simply isn't true; it's a glowing endorsement, hampered only by the effectiveness of Massachusetts' existing insurance regs.
Still, if voters are desperate for a candidate who truly, sincerely, deep-down opposes the individual mandate, there's always this guy. I hear he's running for president, too.
Have a tip we should know? tips@mediaite.com