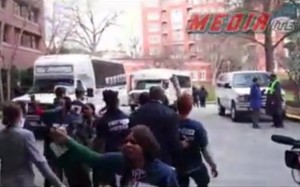 On day two of the Conservative Political Action Conference, Occupy DC created a few disturbances. A group of several hundred protesters tried to advance on the Marriott Wardman Park hotel, but were turned away by police, who also threatened to arrest Slate's Dave Weigel. A bit later, a group  of about 20 Occupiers managed to crash the hotel, chanting "We are the 99%!"
They were quickly removed by police and hotel security, to heckling from CPAC attendees.
There was chatter all day, at CPAC, that Occupy protesters would make a move on the conference, with several false alarms. Then, at around 1pm, a group of several hundred protesters showed up, but were prevented from advancing onto the hotel grounds by a relatively small contingent of police. The police initially tried to keep conference attendees and reporters away from the protesters, threatening arrests, as Slate's Dave Weigel reports:
At the moment the video cuts out, you'll notice the cop grabbing his handcuffs and walking towards me. A second later he reached me and said "I already warned you once." He dangled the handcuffs about a foot from my face. "Do you want to go to jail?" I told him that I hope he'd have a nice day. If he was successful, this Occupy protest and another protest at 5 would be pure, ignored sideshows.
I heard that Weigel had gotten jacked up by the police, but by the time I got out there, they were allowing the media to mingle with the protesters (including the agitated but adorable canine Occupier at the end of the video below).
About half an hour later, I was in the hotel's Harry's Pub, looking for a friend, when a group of about 20 Occupy protesters busted into the restaurant chanting "We are the 99%!"
They were quickly turned away by hotel security, and rerouted to an exit, where police escorted them off of the property, to heckling from the CPAC attendees. Here's exclusive video of the confrontation:
More protests are planned for this weekend, and many conference attendees have been speaking conspiratorially about how the protesters are probing the conference for weaknesses.
CPAC Notes:
I spent a few minutes at Massachusetts Gov. Mitt Romney's speech to see how he handled the "lion's den" that the media kept insisting he was walking into. Instead, he got a rousing, convincing standing ovation from the crowd. Either they're "falling in line" behind Romney, or they're putting on a good show to confound the media (whose attentions they are well aware of).
However, I also spent about an hour at a meet and greet for Sen. Rick Santorum, who drew a huge crowd for pics and autographs. Setting aside his hard-right positions, and perceptions about his electability, Santorum has phenomenal retail politicking skills. He was personable and patient with the crush of admirers. At one point, his campaign staff began to rush things along, but Santorum motioned to calm down, telling them to let the people have time to enjoy the moment.
As he was being whisked away, I asked him if he approved of President Obama's compromise on the Preventive Services Mandate, and his reply was a predictable "No, no, no!"
Have a tip we should know? tips@mediaite.com