Video Shows Janet Huckabee Fighting With State Trooper Following Car Accident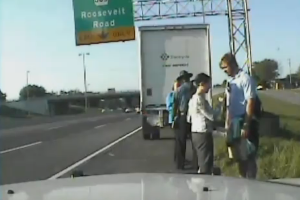 Last September, Janet Huckabee was involved in a multi-car accident alongside Interstate 30 in Arkansas. Last week, she settled the incident, paying $100 for "careless and prohibited driving." However, the situation doesn't seem to be over for the wife of former Governor Mike Huckabee. The Arkansas Times has obtained video from the dashboard camera which features a bit of arguing between Huckabee and the responding state trooper.
It would appear that Huckabee lost control of her vehicle and accidentally swerved in front another car. However, in the video, she gets incensed when she hears the other driver accuse her of being on her cell phone. The Tolbert Report has a transcript of that part of the argument. Here is some of it:
Huckabee – "Did she tell you I was talking on the phone?"
Trooper – "Ma'am, that has nothing to do with…"
Huckabee – "I just want an answer from you. Did she tell you I was talking on the phone?"
Trooper – "She didn't tell me. The passenger told me."
Huckabee – "That is a lie. That is an out lie."
Trooper – "Ma'am, I don't have anything to…"
Huckabee – "So if that is a lie how can I know that the other part is not a lie."
Trooper – "Ma'am, you verified it by your own statement."
Huckabee – "I said I was merging but I said she was merging."
Trooper – "Okay, well she said she wasn't merging."
Huckabee – "She also said I was on the phone. So if one is a lie, why shouldn't the other be a lie."
After that transcript was posted, Huckabee's attorney contacted Tolbert Report to tell them that the phone records eventually showed that Huckabee had not been using her phone at the time of the accident.
While it's probably embarrassing that the video is out there, it doesn't amount to that much more than raised voices typical of a stressful situation. It's pretty unlikely that it will do any real harm to either Huckabee or her husband.
Watch the video from the Arkansas Times below:
(h/t Breitbart.tv)
Have a tip we should know? tips@mediaite.com