Viral 'Thug Baby' Video Prompts Authorities to Take Child into Custody Even Though No Laws Broken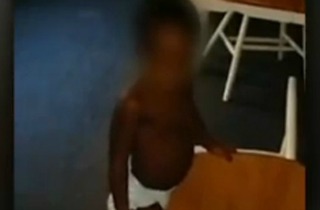 A YouTube video featuring an African-American toddler swearing and giving the camera operator the middle finger exploded on the internet this week and prompted heated debates on both CNN and on Don Lemon's radio program. On Thursday, Nebraska authorities took the swearing child into custody and removed him from his parent's home in spite of the fact that authorities admit no crime had been committed.

The controversial video features a young black child firing off a steam of expletives at his parents who laugh and push the child on.
The Omaha Police Officers Association posted the video on their official website and said it represents "the cycle of violence and thuggery" which threatens their community. Shortly thereafter, Omaha police decided to remove the child from his home. The local police union called the video "sickening" and "heartbreaking."
RELATED: 'The Example's Always Black!' Don Lemon, Marc Lamont Hill Battle over 'Thug Culture' in Baby Video
"That is why when we talk about the culture, the criminal culture, that this is to try to break the cycle and deal with the culture of violence and the culture of gang activity," Sgt. John Wells, the union's president, told CNN.
"Now while we didn't see anything in this video that is blatantly 'illegal,' we sure did see a lot that is flat out immoral and completely unhealthy for this little child from a healthy upbringing standpoint," a statement from the Omaha Police Officers Association released to CNN read.
The American Civil Liberties Union of Nebraska has filed an excessive-force lawsuit against the Omaha Police Determent on behalf of the family and noted that the department's use of "racially charged language" was disconcerting.
UPDATE: New reporting indicates that the child featured in the offending YouTube video was "hit in the foot by shrapnel" while his 16-year-old mother and aunt were also shot. All survived the October, 2013 incident.
Watch the heated debate between Lemon and Marc Lamont Hill over this video below:
And listen to Lemon battle callers on his radio program over the issues raised by this video:
[h/t Washington Examiner]
[Photo via screen grab]
— —
> >Follow Noah Rothman (@NoahCRothman) on Twitter
Have a tip we should know? tips@mediaite.com