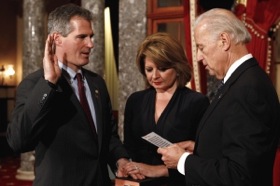 Two of Washington's most colorful characters, Vice President Joe Biden and Republican Senator from Massachusetts Scott Brown, are scheduled to meet for lunch today. No one knows quite what the two will chat about, but it's a safe bet the Senate's health care deliberations will come up. It's also a safe bet one of the two will tell an off-color joke that, for any other politician, would destroy their career. Oh, to be a fly on the wall!
Politico is reporting that the Vice President's schedule has a "lunch meeting" scheduled for 12:30 PM with Brown, but no further details. Considering the astounding discipline with which House Republicans voted against the health care bill, Biden may be attempting to acquire at least one Republican vote in Brown, convincing him that supporting the reforms would be good for both his constituents and his chances of getting reelected in a liberal state– and the Obama administration could not have picked a better representative to do it. Or maybe he just has some parenting advice.
Brown and Biden already have much in common in terms of questionable (but highly amusing) behavior. Biden has been on a roll lately: off-handedly commenting that his job was easy because "you don't do anything;" blessing the soul of the Irish Prime Minister's mother (who is still alive); and getting caught on an open mic telling the President the health care bill was a "big f*cking deal." Meanwhile, Brown has been busy attacking his imaginary general election opponent, a confused Rachel Maddow, and is best known nationally for announcing in his victory speech that his daughters were "available"– and, of course, that sexy 1982 nude pin-up in Cosmo. Surely people who make a career out of being charmingly inappropriate must find it easy to bond over their common ground, just like those who do it out of being inflammatory seem to get along (how else to you explain the relatively cordial relationship between Representatives Alan Grayson and Michele Bachmann?).
It would be nice if they have a healthy talk about health care and all, but let's just hope the terms of a Brown/Obama family basketball game get negotiated, too– we already know the Vice President thinks it would be a "hell of a game."


Have a tip we should know? tips@mediaite.com