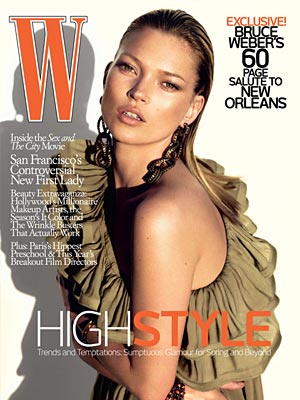 Any thought that fashion bible W could be on death's door have been put asunder. After having about as rough a year in terms of ad revenue last year as any other Conde title last year, the glossy title nw appears to have a new lease on life. Conde Nast announced this morning that they plan to move the title out of the Fairchild Fashion Group and under the supervision of Conde Editorial Director Tom Wallace. (Both Conde Nast and Fairchild are a part of Advance.) The press release below:
CONDÉ NAST TO MOVE ALL OPERATIONS FOR W MAGAZINE OUT OF THE FAIRCHILD FASHION GROUP
New York, NY, March 17, 2010 – Condé Nast will move all editorial and business operations for W magazine out of the Fairchild Fashion Group, it was announced today by Charles H. Townsend, President and C.E.O. of Condé Nast.
Patrick McCarthy will continue in his role as Chairman of the Fairchild Fashion Group through the end of the year. As part of the restructuring, Thomas J. Wallace, Editorial Director of Condé Nast, will name an Editor-in-Chief of W.
The senior editorial staff currently shared by W and WWD will now exclusively work for WWD. Edward Nardoza, Editor-in-Chief of WWD, will now report to Gina Sanders, President and C.E.O. of the Fairchild Fashion Group.
"This formally establishes a structure for W consistent with our other consumer magazine titles, and allows FFG the autonomy to focus on their core business-to-business publications and related businesses," Mr. Townsend said.
Fairchild Fashion Group includes WWD, WWD.com, Footwear News, Fairchild Summits, Fairchild Books, and trade shows.
Condé Nast is a division of Advance Publications. In the United States, Condé Nast publishes 18 consumer magazines, two trade publications and 27 websites.
Have a tip we should know? [email protected]