Wall Funding Highlights Additional Divisions Between Donald Trump and Steve Bannon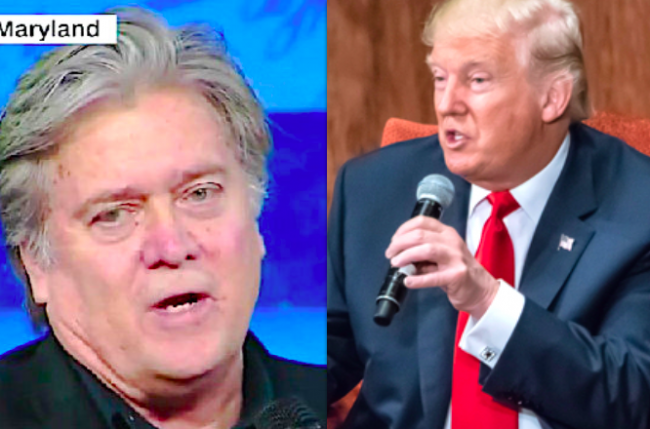 Donald Trump and his chief strategist Steve Bannon appeared on the road to another schism, this time over the issue of funding for the border wall. The proposed wall along the southern border with Mexico was one of Trump's signature campaign promises.
According various reports, Monday night, the president expressed willingness to back off from previous demands that wall funding be included in a must-pass spending bill to keep the government open past Friday. The wall, unpopular with many rank and file Republicans and a non-starter with Democrats, threatened to derail negotiations over the bill and lead to a government shutdown.
Now, that may be changing.
Per NBC:
A senior administration official tells NBC News that the president is open to obtaining funding for the border wall in the regular appropriations process for 2018 later this year instead of insisting it be included as part of the large spending bill to keep the government's lights on past this week.
Another report from CNN, quoted yet another senior administration source saying that Trump would be willing to settle on funding for "border security," and explained the new flexibility by suggesting that "politics is the art of compromise."
The sudden willingness to bend on wall funding is a swift reversal from Tweets indicating that Trump was preparing to dig in on the issue. It is also a rebuke of the views of his embattled chief strategist Steve Bannon, who pushed for conflict. Also Monday, the Daily Beast reported that Bannon wanted the White House to take a "stand" on wall funding and force Hill Republicans into a game of chicken, by drawing "a line in the sand."
"[Bannon] was pushing for this standoff, very hard," a Trump official told the Daily Beast. "He is 100-percent committed to this [specific] fight… to show that [the White House is] tough on immigration [enforcement], tough on the border—show they're serious about the wall."
Since his removal from the National Security Council, Bannon has seen his White House profile shrink dramatically while power moved increasingly to Trump's daughter, Ivanka and her husband, Jared Kushner. 
[image via screengrab]
Have a tip we should know? tips@mediaite.com