Wall Street Lobbyists Are Reportedly Targeting Elizabeth Warren's Run For Senate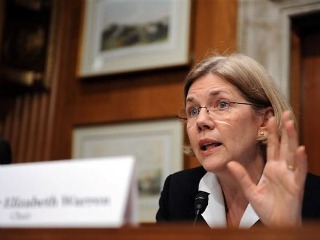 The potential face-off between United States Consumer Financial Protection Bureau special adviser Elizabeth Warren and Massachusetts' Sen. Scott Brown (R) has captured the attention of Wall Street. According to a report by Politico, banking lobbyists have already begun discussing Warren's run and strategizing just how to take on the woman Time magazine called a "new sheriffs of Wall Street" and whose impassioned comments regarding "class warfare" were recently the topic of a popular, much-distributed video.
So far, it seems the chatter on the Hill is being shaped by a desire not to make it seem as if there's an all-out "attack," per se, on Warren, as such a move which would ultimately serve to further energize her base and win her sympathy points.
And Wall Street's focus on Warren could also help Brown be seen as something other than the "lesser of two evils" where support from the banking world is concerned:
All of this could be welcome news for Brown. Even though he's the fourth-largest recipient of banking, insurance and real estate industry donations in Congress, not everyone in the banking world is enamored with him, since he cast votes to reduce debit card swipe fees and approve financial reforms.

"Better a friend with whom you sometimes disagree but can always talk to, than an antagonist who is always coming at you, guns blazing," said the former Hill aide.

And the industry seems willing to forgive Brown.

"Although many people associated with the financial industry disagreed with his vote on Dodd Frank, most feel that Sen. Brown's involvement in the bill was balanced, thoughtful and driven by policy considerations rather than politics," said Sam Geduldig, a financial services lobbyist at Clark, Lytle & Geduldig. "I believe the same people view Professor Warren's contribution to the debate to be less so."
But Democratic strategists aren't exactly sitting idle, and they evidently intend to use Brown's ties to the (increasingly publicly-maligned) banking industry against him. Meanwhile, Brown's camp is touting several of his past decisions — like his votes to reduce debit card swipe fees, for instance, –as evidence that he shouldn't be seen as being inherently tied with the industry's interests.
h/t Politico
Have a tip we should know? tips@mediaite.com