Want To Be A 'Patriot' On 9/11 With Glenn Beck And Sarah Palin? It Will Cost You (Updated)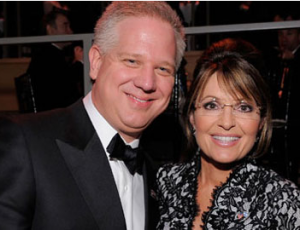 Glenn Beck likes his dates. Hot on the heels of his successful 8/28 'Restoring Honor' rally Beck is re-teaming with sidekick Sarah Palin to throw a 9/11 shindig. This time in Alaska. Maybe they are trying to restore 9/11? Unlike the 8/28 rally this one will cost you. Tickets for the event "range from a low of $73.75 per person (including taxes and fees) to a high of $225, for a spot in the arena and participation in a "meet and greet." The Hill notes there is "no indication to whom or what the proceeds will go."
I actually can't find mention of the event on Glenn Beck's website but here's how Sarah Palin described it:
Glenn's coming to the Last Frontier! I hope my fellow Alaskans (and anyone visiting from Outside) will join me this Saturday, September 11, 2010, at Anchorage's Dena'ina Center at 8:00 p.m. Glenn Beck will be there – you won't want to miss it. Tickets are available at Ticketmaster.com.

We can count on Glenn to make the night interesting and inspiring, and I can think of no better way to commemorate 9/11 than to gather with patriots who will "never forget." Hope to see you there!
Naturally, the pairing of Palin and Beck on 9/11 is offensive to some including Keith Olbermann who thinks they're the worst people in the world (below). Though, honestly, relatively speaking, I don't see what the big deal is. Or what the big deal is compared to the content of Glenn Beck's show, which reaches millions and Sarah Palin's Facebook page, which has been unduly influencing public policy for a least a year. As I understand it, these are just some speeches they're giving to a crowd in Alaska, and they both happen to be quite good at giving speeches. Charging for tickets might be a bit unseemly but so are a lot of things connected to 9/11 this year, including the tables of 9/11 'memorabilia' sold in and around Ground Zero.
Update: Statement from a spokesperson: "Glenn had always intended to donate the speaking fee from the event on Saturday, September 11th in Alaska to Special Operations Warrior Foundation. Governor Palin is not and was never going to receive a fee for introducing Glenn at this event."
What I happen to find more fascinating about this is the continued pairing of Beck and Palin, both Fox News personalities, in events having nothing to do with Fox News. When I first saw them together on Beck's show last January I thought they sort of canceled each other personality-wise, but co-headlining events is obviously a PR bonanza for the pair and between their combined success in publishing, television, Facebook and their influence on the nation's political dialogue one wonders if they aren't testing the waters for a media enterprise of their own. It would certainly be a far more realistic endeavor than any of the political ambitions that some folks have been recently speculating the two might have.
Have a tip we should know? tips@mediaite.com