Want to See How Producers From MSNBC Talk to Team Clinton Vs. How Fox Producers Do?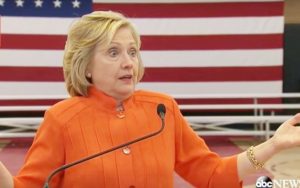 "This amazing, intelligent woman…" is how a producer at MSNBC proposed a segment on Hillary Clinton to the presidential candidate's handlers.
As we've learned in the past, giving a public figure's publicist or manager a heads-up about what a segment could feature is a standard courtesy that keeps brief interviews on-track and keeps good guests willing to come back for quality on-air chats.
Does that mean a producer or booker has to fawn all over the public figure? Well, uh, that depends where said producer or booker works, now, doesn't it?
Compare these emails from producers at MSNBC and Fox News to a member of Clinton's team, found by Independent Journal Review's Jason Howerton:
Leaked emails: Here's that MSNBC producer's pitch for Clinton campaign compared to one from @TeamCavuto producer pic.twitter.com/cttsx0c4Yg

— Jason Howerton (@jason_howerton) October 7, 2016
Both emails are from April of 2015, which, in retrospect, was part of the halcyon days before Donald Trump turned American politics upside-down. Back then, before there was talk of building a wall to keep out Mexican rapists or renewed suspicion of the exonerated Central Park 5, it was widely assumed that Clinton would have a smooth path to the presidency, or at the very least, to the Democratic nomination. There was no way to predict the shake-ups that would rock the Beltway, nor the effect they might have on news media.
It was a different time in politics and in the news world, truly, but that doesn't mean that attitudes and behaviors don't vary widely from network to network still.
Check out the more matter-of-fact tone from the Fox email above, which features a much more balanced — though less thorough — explanation of what the segment on Clinton would be likely to include. Where MSNBC's producer lauded Clinton as being "smarter than most men" and tried to butter her team up, Fox simply endeavored to get a Clinton team member on-air to craft the narrative around her campaign announcement themselves.
Both are interesting storytelling tactics that fit in with the general perception of each channel.
[image via screengrab]
Have a tip we should know? tips@mediaite.com