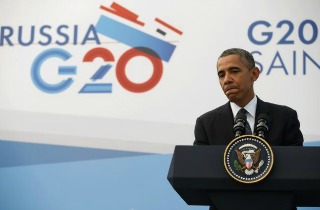 The Washington Post's editorial board strongly criticized President Barack Obama's approach to foreign affairs on Sunday. The paper's board wrote that the president's foreign policy doctrine is "based on a fantasy" and the dynamics that govern balancing behaviors among great powers still matter, "much as we might wish they did not." They added that Obama's policy of reducing America's global military influence is destabilizing and harmful to American national security.
The editorial began by summarizing Obama's world view and the realities he believes should govern geopolitics. They added that the world's intellectual class has largely bought into the notion that increased democracy and interconnectedness has made great power conflicts a thing of the past. "Unfortunately, Russian President Vladimir Putin has not received the memo on 21st-century behavior," the editorial read.
They note that aggressive action by China's president Xi Jinping and Syria's Bashar al-Assad suggest that the world's resurgent powers are eagerly testing the present global order. "Mr. Obama is not responsible for their misbehavior," The Post editorial observed. "But he does, or could, play a leading role in structuring the costs and benefits they must consider before acting."
RELATED: Gregory to Rubio: Wasn't Bush 'In Same Predicament' with Russia in 2008?
The editorial board noted that the United States has retrenched after periods of conflict before. "But the United States discovered each time that the world became a more dangerous place without its leadership and that disorder in the world could threaten U.S. prosperity," they warn.
They implore the president to "make the case for global engagement." Careful to observe that no one is recommending American military involvement in Crimea or Syria, they also make it clear that a policy of military retreat has the potential to be as dangerous as military intervention.
"While the United States has been retrenching, the tide of democracy in the world, which once seemed inexorable, has been receding," The Post's editorial board closes. "In the long run, that's harmful to U.S. national security, too."
Read the editorial via The Washington Post
[Photo via Kevin LaMarque/Reuters]
— —
> >Follow Noah Rothman (@NoahCRothman) on Twitter
Have a tip we should know? tips@mediaite.com