WaPo's Richard Cohen: Joe Biden Shouldn't Run Because I Worked Out with Him Once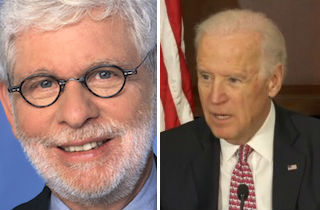 Washington Post columnist and gagger Richard Cohen's latest article argues in a mere 761-words that Vice President Joe Biden shouldn't run for president because he's too old.
How does Cohen know that Biden is too old to become the next President of the United States? Because Cohen is also old, and the two once worked out together in the gym of "the splendid Italian resort of Villa d'Este on Lake Como" where they were both staying for a conference. Also, this was a decade ago.
Gawker slotted Cohen's late-Monday column on its ridicule docket late Tuesday morning, noting that much of the article equated to Cohen identifying political big-wigs that he kinda sorta knew.
Yet there's so much more to pinpoint and make fun off in the column. Like the fact that, even though Cohen emphasizes that he and Biden were working out together, they actually weren't:
Some years ago, I worked out with Joe Biden. He lifted weights while I pedaled a stationary bike, and I can report that the vice president of the United States, if he has kept up his exercise regimen, should be in splendid shape.
Absolutely nothing more than "I was once in the same room as Biden" can be drawn from this opening. Then again, Cohen's intention is to highlight Biden's physical prowess and health a decade before his possible third run at the White House.
Still, while Cohen spends the paragraphs two and three discussing Biden's political career, he inexplicably includes a rather large bit about the pseudo-joint workout in paragraph four:
My workout session with Biden occurred about a decade ago at the splendid Italian resort of Villa d'Este on Lake Como, where we both were attending a conference. Biden and his wife, Jill, flew in with John McCain and his sidekick, Lindsey Graham. We all had a grand time. You cannot ask for better company than Biden, McCain and Graham. They know how to laugh.
Other than naming names, it has no place in the column, especially since the fifth paragraph ignores it entirely and continues discussing Biden's political history. It's only towards the end that Cohen's inclusion of the "I once worked out with Biden" bits reveal their reason for being.
That is, Cohen thinks Biden is too old to be considering a third run as the presidency. Why? Because he's experienced too much, and he's too old. The evidence? Biden is 72, a lot of bad things have happened to him, and Cohen can attest to this because he's close in age to the vice president. No seriously, that's his argument:
I am two years older than Biden… But I am stiff in the mornings and misplaced some height along the way, and I find myself going to memorial services more and more. I take my pills, but from here on out, it's luck that matters most.
[h/t Gawker, the Washington Post]
[Image via WaPo/screengrab]
— —
>> Follow Andrew Husband (@AndrewHusband) on Twitter
Have a tip we should know? [email protected]