'War On Men': WSJ Columnist Calls Military Sexual Assault Investigations 'Effort To Criminalize Male Sexuality'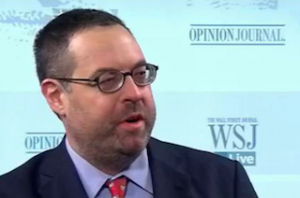 Wall Street Journal editorial board member James Taranto wrote in a column posted Monday night that the "campaign against sexual assault in the military" has turned into a "war on men" that aims to "criminalize male sexuality."
Taranto's column describes, in great detail, the case of Capt. Matthew Herrera, who was convicted of sexually assaulting a female second lieutenant after a 2009 incident. The writer criticizes Sen. Claire McCaskill (D-MO) for putting a "permanent hold" on the vice commander of the Air Force Space Command nomination of Lt. Gen. Susan Helms, who granted Herrera clemency.
Taranto calls the description of Herrera's alleged victim as a "survivor" "more than a little histrionic" and chalks up the incident as no more than "hanky-panky." He praises Helms for looking at the evidence and deciding to spare Herrera "the lifelong stigma of being listed on a sex-offender registry." Herrera did plea guilty to an "indecent act," which led to his involuntary discharge from the service.
Taranto sums up the situation like this:
"It's fair to say that Capt. Herrera seems to have a tendency toward sexual recklessness. Perhaps that makes him unsuitable to serve as an officer in the U.S. Air Force. But his accusers acted recklessly too. The presumption that reckless men are criminals while reckless women are victims makes a mockery of any notion that the sexes are equal."
As Taranto notes, the House "passed a defense bill that would strip commanders of the authority to grant clemency." He calls that move a "mistake" and urges senators like McCaskill to vote against the measure.
During an earlier Senate hearing on the dramatic increase of sexual assault in the military, Sen. Saxby Chambliss (R-GA) made comments in line with Taranto's argument. Chambliss warned that curbing the incidences of rape and other assaults could be difficult due to the fact that "the hormone level created by nature sets in place the possibility or these types of things to occur."
Read Taranto's full column here.
And watch Taranto discuss his column below, via The Wall Street Journal:
—
>> Follow Matt Wilstein (@TheMattWilstein) on Twitter
Have a tip we should know? tips@mediaite.com